Montanara at Forcella in NYC.
Yes, you read that correctly. Fried pizza is real and it's comin' to getcha. Imagine a sweet, innocent pizza walking home one night only to be cornered in a dark alley by a dangerous deep fryer. Sounds terrifying, but the confrontation actually results in a flavor mashup the likes of which few tongues have ever tasted. It combines the danger of oil with the familiarity of typical pizza toppings. New York pizza is currently experiencing its first real dose of the deep fryer, but what exactly is it and where does it come from?
I became a big proponent of fryers when I bought one in college. We had parties on Friday nights in which friends would bring over anything they wanted to fry. Yes, we did call it FriedDay. People brought anything from chicken and fish to cookies and Hostess cupcakes. We formulated different batters for sweet and savory items and eventually bought a second fryer to accommodate both genre. Come to think of it, I don't remember cooking anything else when I was in college – those fryers were pretty much it!
Suffice it to say, I was into frying almost as much as I was into pizza. So when my friend Jeff called me in 2003 to tell me there was a place doing deep-fried pizza in Brooklyn, I jumped on a train from New Jersey and met him at Chip Shop in Park Slope. What we got was a lackluster slice from the pizzeria across the street battered abused by the deep fryer. We could still taste the briny residue from the day's orders of fish and chips. It was totally gross.
New York Post article about Forcell's Montanara. The media loves it.
Luckily, the fried pizza hitting NYC today is a completely different animal. I remember hearing about it from Keste's Roberto Caporuscio, but Giulio Adriani was the first to pull it off at his Williamsburg pizzeria Forcella. The process begins with a stretched piece of dough, opened in the same way a dough would be stretched for pizza. The one major difference is that the dough is punctured at several spots inside the outer rim. This "docking" process eliminates gas pockets that would normally expand when met with extreme heat. The dough is then placed into the deep fryer, where it puffs up and forms a bread bowl that is both light and crispy. After pulling the dough out and drying it for a few seconds, toppings are applied and the whole thing slides into the oven in a small metal dish so the oily dough doesn't make contact with the brick hearth and send smoke throughout the space. After a quick dip into the oven, the cheese is melted and the sauce is cooked. The result is a complete departure from pizza baked solely inside an oven.
But this isn't the first time anybody has ever dipped dough into a fryer. Southern Italian cuisine is littered with fried items, which is obvious when you walk down via Tribunali in Naples. Most pizzerias have a wood-fired brick oven and a deep-fryer just a few feet apart. You can order fried rice balls (arancini), potato croquets (croquettas) and fried macaroni and cheese balls (frittatina) at pretty much every pizzeria. Most signage even indicates Pizzeria (place that serves pizza) e Frigittoria (place that serves fried foods).  The good folks at Molino Caputo in Naples even mentioned that their most popular product is called pizzeria flour and not pizza flour because it is formulated to work in both pizza and the various fried items everybody has on their menu.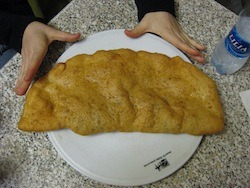 Pizza fritta at Pizzeria di Matteo in Naples, stuffed with sausage and broccoli rabe.
Perhaps my brain was not yet tuned into the fried pizza frequency, but I don't remember seeing anything like Forcella's Montanara on either of my trips to Naples. I do remember pizza fritta, a massive deep fried calzone I tried at Pizzeria di Matteo. There are a couple places in the greater New York metro area that have them (House of Pizza and Calzone in Brooklyn and Delfino's in Hoboken) but nothing matches the insanity of what I tasted at Di Matteo in 2009.
The fried pizza served at NYC's Forcella, PizzArte, and soon to be available at Don Antonio (a forthcoming partnership between Keste's Roberto Caporuscio and his mentor Antonio Starita) is more closely related to a simple snack made at home. We're fortunate enough to live in a world in which every couple of newlyweds has a pizza stone collecting dust in the corner, but there was a time not long ago when making pizza at home was out of the question. For a quick and easy heat conductor, just throw some oil into a frying pan and crank that sucker up to high! This is the method most Southern Italian families used for homemade pizza, as indicated by this recipe I found at the Ithaca Historical Society last year.
Pizza recipe found at the Ithaca Historical Society.
This sounds delicious and easy, so why am I wasting so much time and gas heating up the oven for pizza night? Armed with this 1960's recipe, my mission was clear. I whipped up some bread dough, saved it for an extra day and tried to make my own stove-top pizza. There aren't many details in Carmella's recipe, but I filled in the blanks and this is what happened.
Here's the Play-by-Play…
STEP 1: Stretch Dough Into 6" Diameter. Puncture the center if you want. I forgot.
STEP 2: Heat Oil. I used a cheap olive oil I'm trying to get rid of.
STEP 3: Fry Dough in ½" of Hot Oil. Be gentle. Don't get splashed!
STEP 4: Dry that Oily Cloud from Heaven. I used a pizza screen.
STEP 5: Top With "Whatever Tastes Good." I had no sauce. Still great!
Here's the cross-section. Sorry about the focus issue, I was too excited.
I know, it looks like a donut. But think about it… donut + pizza = awesome. That's math, folks. It's soft with a thin crisp on the outside, deceivingly light and airy, and unbelievably addictive. Good thing my roommates weren't home or I might have been forced to share. So next time your friends show up and you haven't even preheated the pizza stone, think about giving this homespun pizza variation a try. It's super fast, fun and delicious. Or check out how it tastes when done by the pros at Forcella (Bowery, Williamsburg), PizzArte (Midtown) and the forthcoming Don Antonio (Hell's Kitchen). Rumor has it there may even be a spot opening in the Lower East Side that will be serving only fried pizzas! More to come on that front as news develops.