Bring your group together with NYC's
biggest pizza nerdS
Learn from Scott's Pizza Tours founder Scott Wiener,
renowned pizza expert and host of "Really Dough" on Amazon Prime!
Setting up a private online pizza making class is easy! Just check out the two class options below and submit a request with your group details. We'll get back to you within a day to either confirm your request or bounce back some options. We can even ship ingredient kits to your group if they're within the continental U.S. Pricing for classes and kits are listed below.
90 minutes | up to 500 people online class
This live interactive lesson will answer all your questions about working with flour, water, salt, and yeast. You can either use our shopping list to pick up your own ingredients or you can order a pre-measured Pizza Dough Making kit for everyone in your group. The 90-minute class covers all the science, techniques, and ingredients you'll need to continue the process of converting your humble kitchen into the neighborhood's best pizzeria. Your dough will be ready the next day for your pizza making pleasure!

90 minutes | up to 500 people online class
Our pizza pro will guide you through the process of stretching, topping, and baking the perfect pie in your home oven through this super fun live interactive lesson! Purchase our Fresh Dough kits for everyone in your group or have them source their own using our helpful shopping list. No matter what you have in your kitchen -- from baking sheets to pizza stones to backyard pizza ovens -- we'll help you get the best results possible while having a blast doing it! This is the perfect team building event for your company or family.
(ingredient kit pricing is listed in the next section)
$299 up to 8 students
$499 up to 15 students
$599 up to 25 students
$699 up to 35 students
$799 up to 45 students
(pattern continues up to 500 students)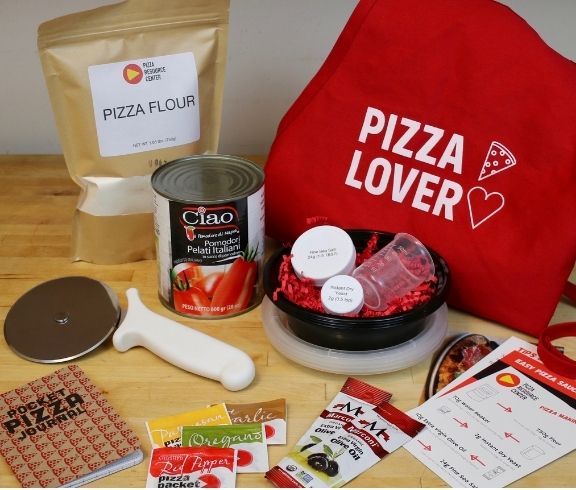 $95 per kit (US shipping included)
High Protein Pizza Flour
Yeast
Sea Salt
Water Beaker
Extra Virgin Olive Oil
Italian Tomatoes
Spice Kit
"Pizza Lover" Apron
Pizza Slicer
Dough Storage Containers
Instruction Card

Pocket Pizza Journal

Customization Options
Makes 4 New York style or 6 thin crust pizzas

Basic kit without apron and slicer available for $65
Shipping included to continental U.S.

$125 per kit (US Shipping included)
Fresh pizza dough for two pizzas
Marinara sauce
Low moisture mozzarella
Mushrooms + Pepperoni (ask for alternative toppings)
Extra flour

Spice kit
Pizza slicer
"Pizza Lover" apron
Next Day Air shipping, tracking numbers available
Vegan and Gluten Free substitutions are available

Upgrade to a PRO kit for an additional $25 to include baking sheet and serving tray
Frequently Asked Questions
What platform do you use to conduct these virtual classes?
We use Zoom but are happy to use the platform of your choice as long as we're able to log in with two devices. We run our classes with 2 cameras: one chef view and one countertop view.

How far in advance do you book?
We like to confirm tours at least three weeks in advance. Availability is always changing, so fill out a request form fill out a request form and we'll get back to you within 24 hours.

What comes with the pizza making kits?
See below for complete pizza kit details. We require shipping addresses 10 business days in advance. Dough making kits are non perishable so we can ship those with plenty of delivery time but fresh dough kits are perishable, so we ship those next day air. Kits come with instructions for storage and use!

What if someone in my group can't make it to the class but they have a kit?
No problem! All kits come with instruction cards and a link to our online videos to help them make the most of their kit.

What if someone in my group isn't in the US? Can I still send them a kit?
While we prefer to ship only to the continental U.S., it may be possible for us to get a kit to Canada or the UK. Just ask when you submit your request!
"I left feeling full of confidence and excited about making a great pizza. This experience is a must for every pizza lover."
"I would recommend anyone from any age or background to sign up to take Scott's class. I would do it again and I'm going to tell all my friends to take this class!"
"This man knows his stuff - from the chemistry of yeast to all the right techniques for kneading and forming the dough. Thank you for a class that exceeded expectations, Scott!"
"What I loved most about the class is that he explained why we were doing what we were doing rather than just how to do it. I learned about Baker's Percentages, why to use cold water vs warm, why some recipes call for added sugar and other don't, and much more."
"After trying (and failing) several times to make pizza dough by following recipes, Scott helped me unlock the mystery of great dough and the experience delivered dough for four outstanding pizzas starting with just a few cups of flour. I am considering taking his experience again to hone my new skills. Highly recommend."
"Whether you're a novice pizza maker or an experienced one, you will leave this class with new knowledge and confidence!"