Meet the planet's biggest pizza nerds
We're pizza lovers first, tour guides second. Our mission is to welcome you into the fold of NYC's storied pizza culture. We do that by having great relationships with the best pizzerias in New York City. Our tours support small businesses by purchasing their food and sharing the stories they don't have time to tell. When that story gets complicated, we do the research to separate fact from fiction. You may think pizza is just the world's most delicious food, but it's really science, history, culture, people...and also cheese.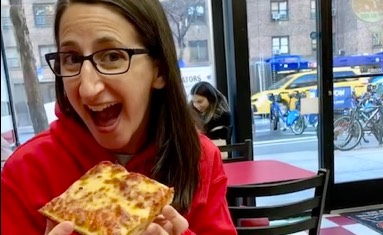 Amy grew up outside of Detroit but insists there's New York in her blood, as her father was proudly born and raised in Brooklyn. She spent every winter break as a child piling into the station wagon (and subsequently the minivan) to drive 10+ hours to Brooklyn to visit family.
If Ashley Mincey looks familiar, you're probably a fan of Master Chef. She was a leading competitor on season 9 and has been teaching online cooking classes from her home in Miami since 2020. As for her favorite slice? If it's sweet and spicy- it's serving pizza goals!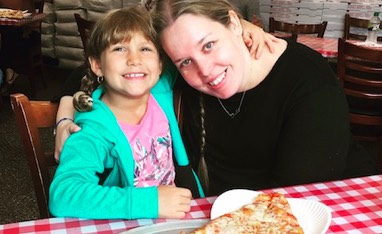 As the brains behind-the-scenes, C.C. coordinates scheduling for all public and private pizza tours. Always a huge fan of anything with cheese, it was on the Sunday Pizza Bus that she discovered the beauty and bounty of the New York pizza world, seeking out new slices ever since.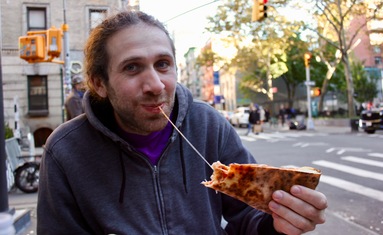 Dan was born and raised in Brooklyn, living in NYC his entire life. He grew up in a household with no skilled chefs, so pizza was always the standby. Dan started giving food tours in 2014 but lacked an emotional connection with the food. Thats when he turned his focus to pizza, the food that weaned him.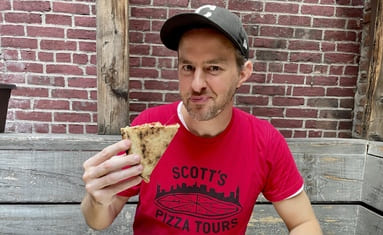 As a street performer, David has regaled thousands of New Yorkers and visitors alike with the vibrant sounds of his lively marimba. Communicating through a heavy instrument has its drawbacks, which is why David turned to the glorious slice of pizza as his muse.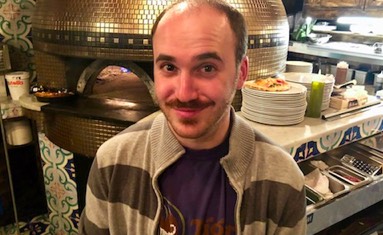 David Fried is an expert-level pizza consumer. His personal brand of cynical optimism makes him ideal for navigating the NYC pizza scene due to his uncanny ability to endure long waits at pizza hot spots. His claims of athletic prowess have yet to be confirmed, but his wit is know by all pizzaioli.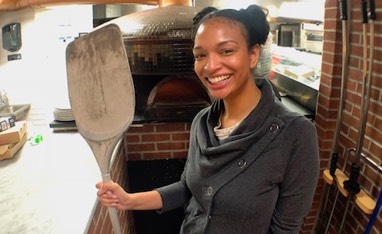 A New Yorker by birth, Krista spent her early years in the south United States. After her first visit back to NYC, she fell in love with the sights, sounds and especially the pizza! She has called NYC her home since 2003, making it her mission is to educate tourists and New Yorkers alike about its treasures.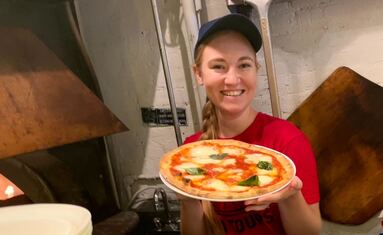 Laura walter is a pizza lover of the highest order. Born in Germany, she dipped into Naples when the urge for pizza struck. Her curiosity about the magical elixir of dough, sauce, and cheese has led her to experiments in her own kitchen, where she has long chased crusty perfection.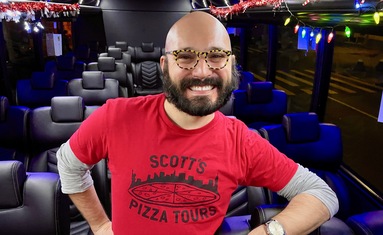 Paul grew up in a family that ate pizza for every special occasion as well as pretty much every Friday. After moving from Michigan to NYC, he worked at a famous pizzeria for 12 years, meeting Scott along the way. Paul loves all pizza, from the fanciest gourmet pies, to eating pizza rolls in bed.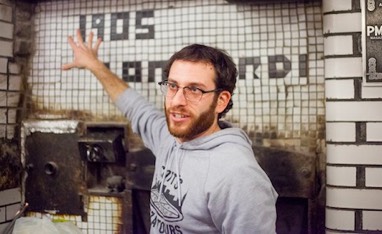 SPT's founder is a leading voice in the pizza community. As a monthly columnist for Pizza Today Magazine, host of Thrillist's Really Dough, and Guinness World Record holder for largest collection of pizza boxes, it's clear that he turned obsession into a lifestyle.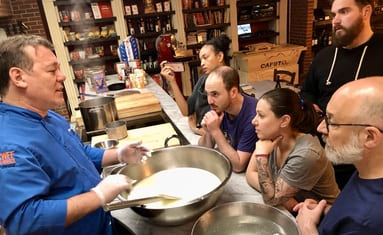 Want to be a nyc pizza guide?
We're always looking for great people to join our team of pizza nerds. It's the perfect gig for anyone who loves history, science, storytelling, people, and PIZZA! To apply, please email a 60-second video of yourself explaining why pizza is important to you. You can send your video or link to info@scottspizzatours.com. THANK YOU!

Scott takes Ryan Seacrest on a NYC pizza tour!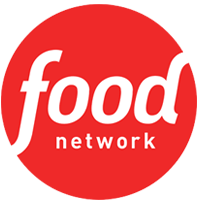 "Scott has forgotten more about pizza than most people have ever known!"

Scott takes Ryan Seacrest on a NYC pizza tour through Manhattan and Brooklyn!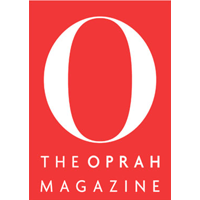 Gayle King featured SPT on her page in Oprah Magazine in July 2019. WOW!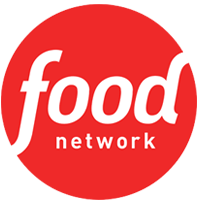 Food Network: United Tastes of America
Scott took the Food Network on a tour of Bleecker Street's pizza scene.
Sign up for hot slices of pizza news and special offers! Don't worry, we won't clog your inbox or your arteries.