Explore NYC's pizza landscape with a specialty experience
This is perfect for pizza lovers who crave a specialized experience beyond the confines of our public tour schedule. Private tours are focused on your group for a next-level experience.

Join us in NYC for an in-person tour or treat your group to a live, interactive virtual pizza making class. We'll even ship you all the ingredients! Just fill out the request form below and we'll get back to you with details and availability as quickly as possible.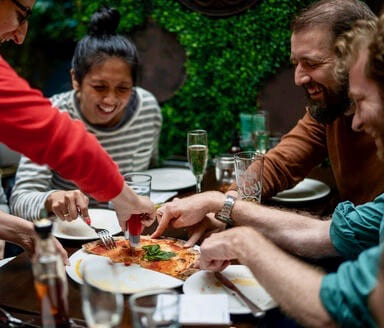 Our guide will meet you in a pizza-dense neighborhood (we'll select one based on your group size and tour time) and guide you through a selection of exemplary pizzerias. You'll learn pizza history, science, and culture as you taste your way through a customized route tuned to your group's schedule and needs. Meet the pizza makers, tour the kitchens, and get lost in the sauce. Max 16 guests.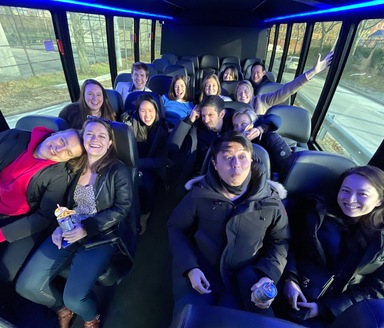 Let us curate a custom pizza adventure for your crew! We'll showcase 4 distinct styles over 4 hours. We can either pick you up in our slick limo bus or you can have your group meet up at our first pizzeria. Everybody gets a slice per stop and a Pocket Pizza Journal to keep track of tastings. Perfect for team building and birthday parties. Request details and rates via the button below. Max 32 guests.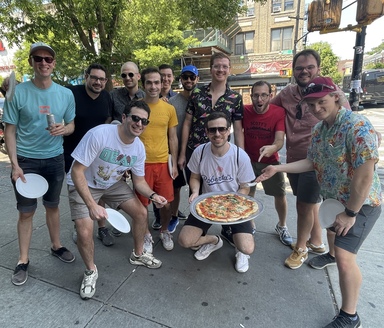 Starting at $69 per person
If you're rolling around town in your own vehicle, we'll send a guide to hop aboard! You'll visit four amazing pizzerias over 4.5 hours. Pizza and soft drinks are included, plus everyone gets a Pocket Pizza Journal! Pricing starts at 16 guests but smaller groups are welcome. Perfect for summer camps, school groups, community trips, and pizza clubs. Hit the button below for details and rates.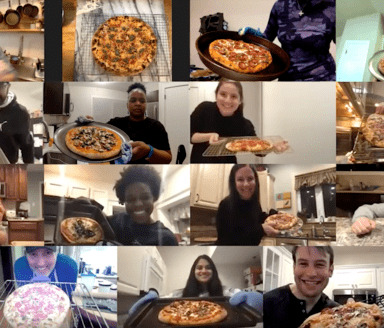 Starting at $299 Per online session
Learn the tips and tricks for making great pizza at home with this interactive online lesson. We'll give you a list of all the ingredients and equipment you'll need, or we can ship all the ingredients directly to your home. Max 500 guests.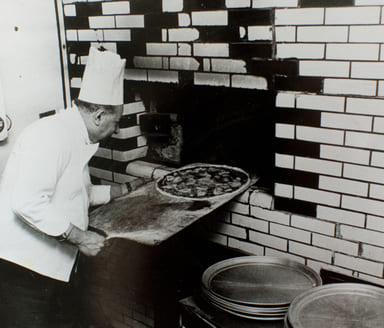 How did pizza transform from a peasant food in the streets of Southern Italy to a global phenomenon? Our Pizza Pro will separate fact from fiction with historical photos, documents, and stories of the planet's most important pizza makers.
All private tours include a slice at each stop, soft drinks, a Pocket Pizza Journal, and guidance from one of our Pro Pizza Nerds. DELUXE tours include wine pairings (or beer if appropriate) and SUPREME tours include salad + antipasti + dessert in addition to wine pairings. 
We'll do our best to accommodate guests with dietary restrictions. Just let us know in advance if possible so we can plan our route accordingly. While we can't guarantee that every stop will have pizza options for guests with heavy restrictions, we can always allow you to order other dishes from the menu. Tour pricing includes standard pizzas, so we'll add any additional food costs to your final invoice. 
Our instructors will help you and your team make the best pizza out of your home ovens. We use proven techniques that unlock the power of your kitchen and we do it in a super fun way. You can even choose to have ingredient kits sent to all your group members. We take care of it all!
Every tour we do is customized to the group. For private tours, we route the tour based on your group size, pickup location, tour date, and tour time. We can set up a call once you book your tour if you'd like to discuss pizza preferences, but we never announce our route in advance.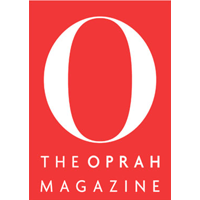 Gayle King featured SPT on her page in Oprah Magazine in July 2019.

Scott took Ryan Seacrest on a NYC pizza tour to Brooklyn!
Scott judged the First Annual Pizza-Off!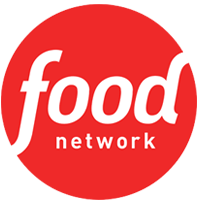 Scott has forgotten more about pizza than most people have ever known!
"As a team building event it was fabulous as each dining experience we reseated and ended up with new coworkers. By the end of the night we had really engaged with someone new from a geographically dispersed team."
"[Our guide] was very knowledgeable, fun, easy going and knew the perfect spots to take us based on the birthday girl's favorite pizza. Would highly recommend and cannot wait to do this again!"
"I attended this tour as a "team building" activity through work. I have never laughed so hard while actually learning so much about the history of pizza."
"We used Scott for a small team building pizza making class. He did a great job keeping it engaging in a virtual environment, and we all had a lot of fun!"
"We went for my mom's 76th birthday - total blast. One of the kids had been on the tour twice before, and still didn't get enough."
Small mysterious triangular section of pizza left on a tray after a pizza has been sliced with less than 100% accuracy.
Frequently Asked Questions
Additional Pizza Experiences
Sign up for hot slices of pizza news and special offers! Don't worry, we won't clog your inbox or your arteries.