now touring covid-safe and 100% delicious

We've got COVID-friendly options for pizza lovers and adventurers, from virtual tours and pizza classes to socially distanced in-person tours. These are perfect for your family celebration, office team-building event, or kids' birthday party. Live tours are available for up to16 guests. We'll provide the Personal Protective Pizza Equipment (PPPE), including hand sanitizer, mask (required), and our world famous Pocket Pizza Journal.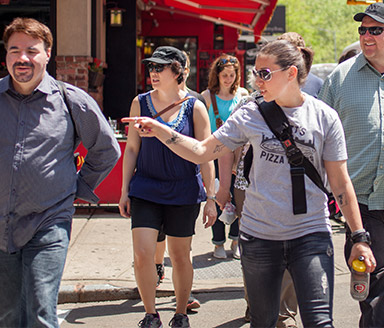 Starting at $695 - Resumes May 15
Hit as many pizzerias as possible within 3 hours as one of our Pizza Pros hooks you up with an insider's taste of the city's top spots. You'll eat your way through the history and science of several significant styles. Let us know what you're inte and we'll pick the perfect neighborhood in either Manhattan or Brookyln. Groups limited to 16 people.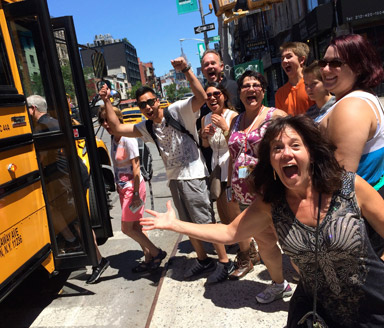 starting at $1,695 - resumes july 11
Let us curate a pizza adventure for you and your crew! We'll showcase four distinct styles in four different parts of the city. We can either pick you up at a central meeting point or start at our first pizzeria. Everybody gets a slice per stop plus a Pocket Pizza Journal to keep track of tastings. Fill out the request form for details and rates.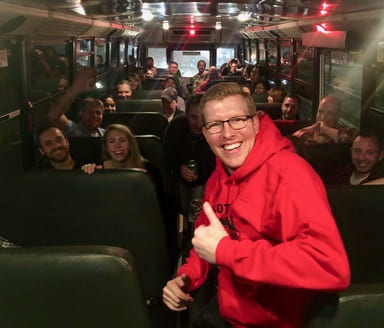 Starting at $69 per person - resumes july 11
If you're coming into town with your own vehicle, we'll send a guide to meet you at your first tour stop. We'll take you to four amazing stops based on your group's background and interest. Perfect for day trippers, school groups, and party buses. Minimum group size for this tour is 16 guests. Fill out the request form for details and rates.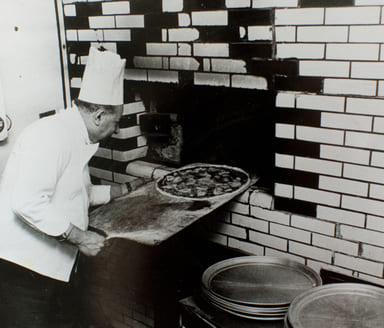 How did pizza go from being a peasant food in the streets of Southern Italy to a global phenomenon? Our Pizza Pro will separate fact from fiction with historical photos, documents, and stories of the planet's most important pizza makers.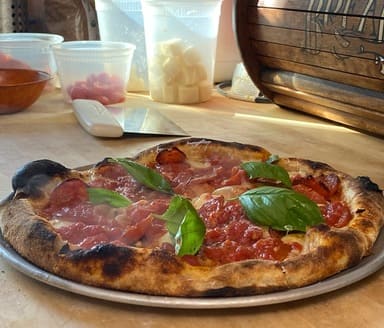 Starting at $299 Per online session
Learn the tips and tricks for making great pizza at home with this interactive online lesson. We'll give you a list of all the ingredients and equipment you'll need, or you can purchase a Pizza Dough Making kit. Choose either DOUGH or PIZZA MAKING class.
All private tours include a slice at each stop, soft drinks, a Pocket Pizza Journal, and guidance from one of our Pro Pizza Nerds. Most private tours are led by company founder (and Guinness World Record holder for the largest collection of pizza boxes) Scott Wiener.
The sad truth is that most great pizzerias in NYC do not have options for those with specific dietary restrictions. We'll do our best to arrange for a gluten and/or cheese-free pizza at one stop but can't guarantee. The best option is to give us ample notice or ask for a specialty tour to visit pizzerias that fit your criteria.
We have operated vegan and gluten free tours in the past. Sorry, kosher friends, we have yet to find enough good kosher pizzerias to assemble a worthy pizza tour.
Face masks are absolutely required on all in-person private tours. If you don't have one, we'll provide one for you. It is strongly recommended that you bring a refillable container for water. We discourage the use of bottled water, as New York's tap water is among the tastiest in the country. You'll also want to bring a camera, your love of adventure and an insatiable appetite.
Every tour is structured based on the group. We love getting into detail about pizza science and history, but some groups prefer to relax and mingle. We're able to facilitate both extremes. As far as deciding which pizzerias we'll hit, all you need to do is choose your NYC neighborhood (we love Greenwich Village, the East Village, Lower East Side, and Williamsburg Brooklyn) and our Pro Pizza Nerd will do the rest. Navigating NYC's pizzerias is what we do and we have a great track record of creating routes that serve our clients' needs.
"Terrific tour of some of New York's best and historic pizzerias."
"We learned more about pizza than I ever thought we would."
Small mysterious triangular section of pizza left on a tray after a pizza has been sliced with less than 100% accuracy.
Additional Pizza Experiences
Sign up for hot slices of pizza news and special offers! Don't worry, we won't clog your inbox or your arteries.