So you've gathered a group of pizza lovers (could there be an easier task?) whether that be a corporate team, birthday party, bachelor or bachelorette party, family reunion or anyone who wants to celebrate the glory and wonder that is pizza in New York. See our existing event options below or contact us to set up a custom event!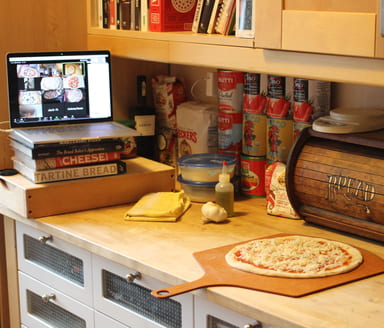 Starting at $299 Per online session
Learn the tips and tricks for making great pizza at home with this interactive online lesson. We'll give you a list of all the ingredients and equipment you'll need. Dough Making and Stretch-Top-Bake sessions available.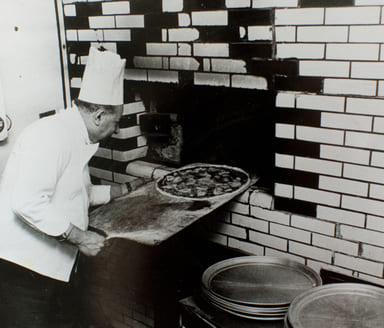 How did pizza go from being a peasant food in the streets of Southern Italy to a global phenomenon? Our Pizza Pro will separate fact from fiction with historical photos, documents, and stories of the planet's most important pizza makers.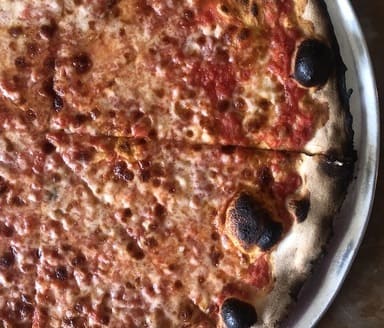 Learn everything you've ever wanted to know about 8 significant pizzerias that define NYC's pizza culture. You'll get all the history, science, and culture behind NYC's most celebrated spots through a lively interactive video presentation.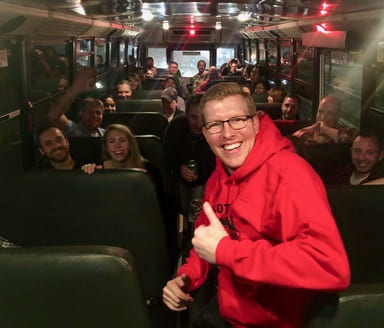 ON HIATUS during social distancing
This culinary adventure stops at up to 4 incredible pizzerias, each of which features a unique pizza style. Each guest gets a slice at every stop plus a Pocket Pizza Journal to keep track of tasting notes.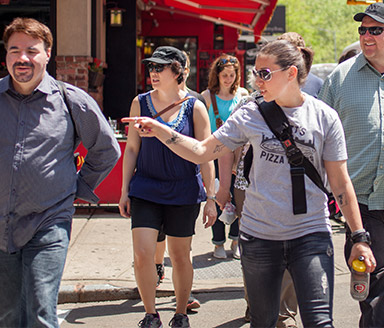 ON HIATUS during social distancing
Visit three of NYC's top pizzerias as you stroll through New York's most beautiful neighborhoods. You'll learn the history and science that makes each stop special. And of course, pizza is always included.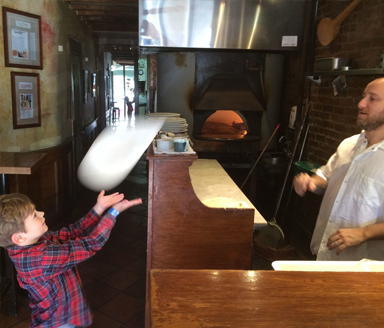 ON HIATUS during social distancing
This hardcore pizza crawl hits as many pizzerias as possible within 3 hours. Pricing accounts for travel by foot but we can hop into cabs or subways to suit your mission.
All private tours include pizza at every stop, goody bags (aka Pizza Tour Survival Kits) with palate cleansers, breath fresheners, pizza candies, wet naps and Pocket Pizza Journals. Most private tours are led by company founder (and Guinness World Record holder for the largest collection of pizza boxes) Scott Wiener.
The sad truth is that most great pizzerias in NYC do not have options for those with specific dietary restrictions. We'll do our best to arrange for a gluten and/or cheese-free pizza at one stop but can't guarantee. The best option is to give us ample notice or ask for a specialty tour to visit pizzerias that fit your criteria.
We have operated vegan and gluten free tours in the past. Sorry, kosher friends, we have yet to find enough good kosher pizzerias to assemble a worthy pizza tour.
It is highly recommended that you bring a refillable container for water. We discourage the use of bottled water, as New York's tap water is among the cleanest and tastiest in the country. You'll also want to bring a camera, your love of adventure and an insatiable appetite.
Every tour is structured based on the group. We love getting into detail about pizza science and history, but some groups prefer to relax and mingle. We're able to facilitate both extremes. As far as deciding upon tour stops, we're happy to tailor the tour to your taste, but prefer to retain final decision-making duties. Navigating NYC's pizzerias is what we do and we have a great track record of creating routes that serve our clients' needs.
"Terrific tour of some of New York's best and historic pizzerias."
"We learned more about pizza than I ever thought we would."
Small mysterious triangular section of pizza left on a tray after a pizza has been sliced with less than 100% accuracy.
Additional Pizza Experiences
Sign up for hot slices of pizza news and special offers! Don't worry, we won't clog your inbox or your arteries.