Last week I celebrated my annual "Two Days on the Beach" vacation and somehow managed to spend a significant portion of it visiting pizzerias along the Jersey shore. Here's a rundown.
My first stop was the famous Vic's in Bradley Beach. It's an old school Italian American joint that is most accurately embodied by this beautiful neon sign. The pizza is a pretty typical bar pie and even though it was better than the last one I had (with the Pizza Patrol back in 2009) it wasn't anything worth traveling for. They advertise "tomato pie," a term used for pizza in the Trenton area. This makes a ton of sense because I-195 runs a straight route from Trenton to the Monmouth County shore area, so folks often escaped the NJ capitol for sandy serenity in towns like Bradley Beach.
But if you do end up in Bradley Beach looking for a quick slice, Ferraro's Famous Pizza just a block down the road is an excellent choice! They have a Ferraro's Favorite (or something like that, not exactly sure what they call it) with cheese on first and chunky tomato on top. It's excellent. Be sure to ask for basil to be added post-oven, it really brightens up the pie.
Slice at Ferraro's on Main St in Bradley Beach.
On a drive down to see some friends in Mantoloking, we stumbled upon another "tomato pie" joint simply called Brick Oven. They weren't open for lunch, but I grabbed a photo of their cool sign because of the amazing appearance of yet another Winking Chef.
The final pizza stop was the most anticipated of the journey. Porta in Asbury Park was recommended to me by Keste/Don Antonio's Roberto Caporuscio, food meister Don Magee and lots of people via Twitter. Word on the street is it turns into a nightclub so get there before 9pm if you want to eat without drinks being spilled on your pie.
We got there at 6:30 on a Friday and there was already a 30 min wait, so we attempted another run on Saturday at 6 and were seated right away.
Porta in Asbury Park, NJ.

It's a HUGE place with two Neapolitan Gianni Acunto ovens that reminded me a lot of Antico in Atlanta, but it's more subdued. They serve pretty typical Neapolitan pizza with a slight tilt toward what Americans might expect. The crust isn't too soft and toppings were definitely not sparse as they are in Napoli. Our margherita pie tasted great and was clearly made with quality tomatoes and oil, but I could have done with less cheese. I'll definitely go back on my next visit to Asbury Park.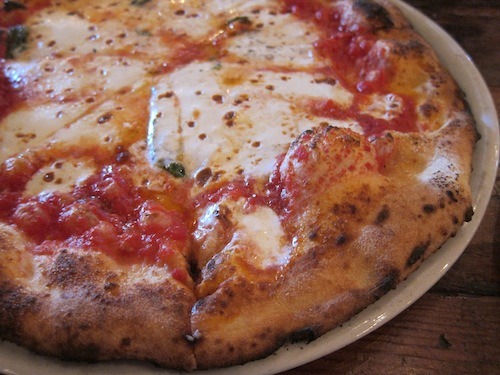 The Jersey shore is packed with less-than-desirable boardwalk pizza that only tastes good after a day in the sun or a night of intoxication but these spots are solid regardless of your state of mind.