Yesterday I had some seriously good thin crust pizza while visiting my parents in New Jersey. I only live about 24 miles away from them, but that could take nearly 3 hours by train. Truth be told, I don't get out to New Jersey very often and when I do there's rarely time for pizza adventures. Since we don't run our Sunday Pizza Bus tour when the 5 Boro Bike Tour is happening in NYC, I took the day "off" to visit my parents. My ulterior motive: to check out a pizzeria in their neighborhood that's been making some noise.
Nola's Osteria and Pizza is located in a small storefront along a strip of North Ave. They opened about a year ago and have already gotten some serious attention for their thin crust pizzas. The menu has a list of standard New York Style pizza, baked directly on the hearth of a Bakers Pride gas-fueled deck oven. There's also a list of thin crust pan pizzas, which piqued my interest even more.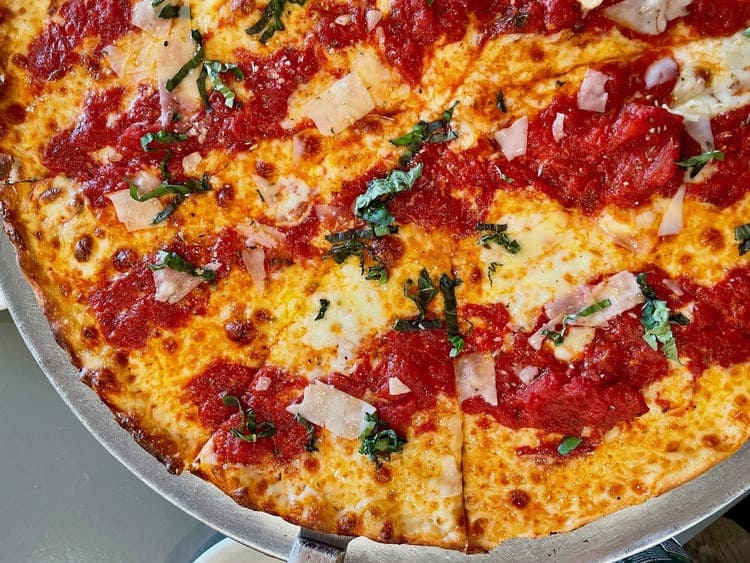 A quick look at their website and social media channels revealed that a pizza called The Warrior was the thing to get. It's essentially a cheese pizza with a mix of fresh and low moisture mozzarella plus a stewed chunky tomato sauce and some parmigiano. The other item that caught my attention was a chunky sausage pie. We ordered both.
What I like most about Nola's and the pizza they serve is that it's different from what everyone else in the area is doing. We didn't try the standard crust, but the thin crust pizza made in the pan really was special. There are about a dozen pizzerias in the area that have been around since I was a kid and their pizza has only gotten worse. When a place like Nola's comes along, it should be a wakeup call to the competition. People are way more into food now then they were twenty years ago and they're willing to travel for the good stuff. Nola's is a refreshing answer to the monotony of pizzerias in this part of New Jersey.