Over the course of 14 days this Winter, I ate at 50 pizzerias on the West Coast. My first stop was Phoenix, where I finally had the opportunity to visit the heralded Pizzeria Bianco as well as seven other curious pizza destinations. You can check out my Phoenix findings in this earlier post.
The second stop on my two-week binge was a big one. I dedicated six days to visiting as many San Francisco Bay Area pizzerias (and historic bakeries) as possible. When the smoke cleared, I had hit about thirty spots! Some were good, some were great, others need not be mentioned. One thing is for certain: San Francisco is currently one of the most exciting pizza towns in the country.
I was pretty excited when The Godfather picked me up from the airport and immediately asked me which pizzerias we were heading to first. We dropped of my bags and headed straight for Pizzeria Delfina. Once inside, we spotted a pair of open seats at the end of the bar. Not only did we have a perfect view of the prep area, but we also had access to the lovely staff. Unlike many pizzerias, the Delfina crew were extremely well-informed about their products and had no problem discussing them. We ordered two pizzas, a Margherita and special pie with spek, green garlic, pecorino, and agliato. Both were lovely, especially the speck pie (sorry, I ate a slice before taking a photo)
The Margherita was nice and creamy, with soft fruity flavors thanks to their excellent choice of olive oil. Notice how nice the char is on the corniccione. But these guys aren't using an imported Neapolitan Vesuvian-ash-lined piece of eye candy, they're baking these bad boys in a Marsal & Sons brick-lined deck oven (manufactured in beautiful Lindenhurst, Long Island). As much as I love wood-burners, the folks at Delfina don't need to rely on one to kick their pies up to the next level.
Following the advice of a Delfina crew member, we topped off our delicious pizza meal with a slice at Arinell Pizza. This is a funky little slice shop just around the corner from Delfina (and Bi-ite Ice Cream). The pies sitting in the display case were HUGE and SQUARISH. I asked about the shape of the pizza, but the pie mad just said they always come out different. Fair enough. I thoroughly enjoyed my slice at Arinell. The crust was pretty thin but not at all floppy and I loved the way the cheese and sauce combined to form a blanket of deliciousness.  Really solid slice shop!
The evening took us to a pair of pizzerias that couldn't be any more different. We first tried to get into Flour + Water but there was a 3 hour wait. YIKES! So we put our names on the list and did what any normal pizza lover would do: we drove across town to Little Star, known for their deep-dish Chicago style pies. The wait was only 45 minutes, so we reserved our table AND put in our order for one "Little Star" with added sausage and one small cheese pizza. This step was essential because Little Star's deep dish pizza can take upwards of 40 minutes to bake. Both pies had the biscuit-like buttery crust essential in deep dish pizza, as well as a sweet, chunky layer of tomato on the surface. Cheese plays the essential role of protecting the crust from the tomato's dangerous moisture. My apologies for the bad photo, but San Francisco apparently has a rule about keeping restaurant lighting levels dangerously low.
Thanks to our early pizza order at Little Star, we made it to Flour + Water just in time for our 10:30 reservation. The place was still packed and we had just enough room left for two pies: a Margherita and a Cozze – white wine braised mussels, potato, torpedo onion & green garlic. Both were tasty, but I enjoyed the toppings more than the crust. This pizzeria (and Delfina) are part of a strong NEOpolitan trend in San Francisco. The pizza is based on that of Naples, but with a twist. The whole idea of Neapolitan pizza is that the ingredients and methods are exact to the specifications of Neapolitan tradition. NEOpolitan pizza instead uses local ingredients to inspire creative topping combinations atop a 12" personal-sized crust. I'm a big fan of this trend, which includes fantastic New York pizzerias like Roberta's, Franny's and Co.
Day 2 of my safari began in the Italian neighborhood of North Beach at Tony's Pizzeria Napoletana. The first thing you need to know about this pizzeria is that it is MUCH more than just Neapolitan pizza. In fact, this is one of the most versatile pizzerias I have ever visited because their menu isn't restricted to a single pizza style. The first pizza we ordered was the Margherita Limited Edition. Tony won the World Pizza Cup in Naples with this pie in 2007 and he only makes 73 of these every day, so get yours early! The dough is mixed by hand, using San Felice Flour, and then proofed in Neapolitan wooden boxes before being dressed with the typical Neapolitan fare (DOP tomatoes, fresh mozzarella, basil, EVOO) and jumping into a hot wood-burning oven. The pie is delicious!
But the wood-burning oven isn't alone. Tony also has an electric oven that was used to bake our Pizza Romana, a thin white pizza consisting of a three course meal on a single crust. The antipasta section of this pie has cherry tomatoes, black olives, basil and garlic on a thin bed of mozzarella. Next up is the main course, with salami picanti, arugula, parmigiano and mozzarella. Dessert may have been my favorite part, with its delicate combination of prosciutto, Gorgonzola and sweet fig preserve. This is one serious pie!
But the crowd favorite may have been the Original NJ Tomato Pie, baked in Tony's Marsal & Sons brick-lined deck oven. I'm a proud NJ native and I stand by my motherland's distinctive brand of pizza (check the Munchmobile posts) so it means a lot when I say I loved this pizza. Just like the pies at NJ tomato pie HQ DeLorenzo's (Tony's is more like Hamilton Ave than Hudson Street/Robbinsville), the tomato pie at Tony's has a dense crust with creamy aged mozzarella topped with a healthy portion of bright-fruity-delicious crushed tomato. It's a real winner and I hope people who aren't familiar with the Trenton, NJ tomato pie purveyors give it a test drive.
There you have it, a pizzeria with three ovens and (at least) three unique ways of baking pizza. The menu also contains regional specialties such as New York Sicilian, New Haven Clam, Stromboli and calzones, as well as pastas and salads. It's an impressive menu that is extremely well executed, but what I like most about Tony's is the level of pizza education built into the experience. You can order a variety of styles and read about the unique production methods right there on your menu! History and tradition are part of the Tony's Pizzeria Napoletana experience, but the proof is in the pizza.
If pizza history is your jam, you simply cannot miss the oldest pizzeria on the West Coast: Tomasso's. Also located in San Francisco's North Beach section, Tomasso's is packed within minutes of its 5 PM opening. The restaurant is small, probably about 60 seats, and the pizza oven is visible from every point in the room. The vibe is super cozy and I would definitely recommend it for families interested in a real Italian dining experience.
Since we were seated before the place was packed, I scored a few shots inside the 1935 wood-burning oven. Unlike the flat-topped coal-fired brick ovens of this era, Tomasso's oven is domed for better heat distribution.
The pizza was decent but the star of the show was the calzone. Baked in the cooler part of the brick oven, our calzone was filled with a simple mix of ricotta and mozzarella. It reminded me of similar baked calzones at  John's of Bleecker Street (Manhattan) and Sam's on Court Street (Brooklyn). Notice how it's literally a folded pizza (minus the sauce). Awesome!
As if this wasn't enough for one day, we decided to hit one more pizzeria to cap off the night. Our last spot was Gialina, a pizzeria that falls into the NEOpolitan category that seems to be so popular about town. So popular, indeed, that they each boast 2+ hour wait times. That proved to be an asset for us, since the day had already seen quite a bit of pizza (not to mention some incredible focaccia that will be highlighted in a future post or the dim sum that will not be mentioned) so we needed the time to get amped up.
We ordered four pies at Gialina, each of which sported a curious crust. While most pizzerias aim for a charred underside, these guys kept theirs pretty pale and caked with flour. I really enjoyed the crust, as it dared to be different with its pastry-like texture.
I absolutely adored the Atomica (tomato sauce, mushrooms, mozzarella, chilies & red onions). It was simple, yet zesty! I liked it so much, I had a second slice. That's a big deal when you're spending the entire day sampling pizzerias! I really love the simplicity of this pie and its lack of cheese was much appreciated.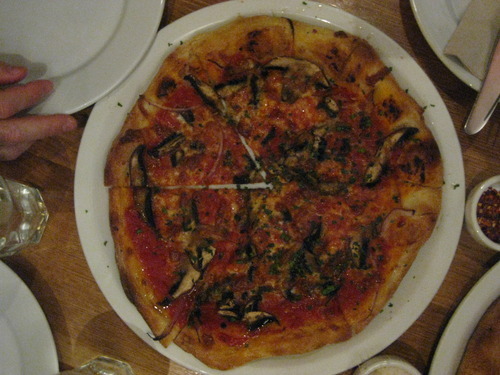 The night officially ended with our remaining morsels getting the old box treatment, but I caught wind of a major pizza event happening on the streets of San Francisco and had to see it with my own eyes. Jeff Krupman or, as his followers know him, "Pizza Hacker" modified his backyard Weber grill to be suitable for wood-induced fires reaching over 800 degrees F and bakes outstanding Neapolitan pies without the confining walls of a restaurant. You can only find Pizza Hacker by tracking him on his website or via twitter, but it's definitely worth the effort.
Jeff is the real deal. He uses tomatoes that he picked/canned himself, a dough recipe that's constantly evolving, an oven that is always being tweaked and rebuilt and a really cool head lamp. One of Jeff's most radical innovations is his use of smoked salt around the circumference of the pizza, resulting in a truly unique crust that differentiates itself from the rest of the pie. It's really outstanding, definitely one of my favorite pies in the entire Bay Area. Check out this video for the legit scoop.
The Pizza Hacker adventure capped off Day 2 of my San Francisco pizza safari beautifully. Stay tuned for at least two more SF installments PLUS a rundown of my Los Angeles pizza safari.