What a blast to be invited back to Live with Kelly and Ryan last week for an in-studio pizza tour! I brought a pizza from each borough to show off some of the city's delicious diversity. We talked about each slice and grabbed a couple bites across two segments, which you can view by clicking above. This was Ryan's final food segment on the show and I'm honored he chose to spend it with pizza.
Ryan Seacrest's Pizza Love
This was my third time on the show. Back in 2018, I took Ryan and the production crew on an actual NYC pizza tour in Manhattan and Brooklyn. I didn't realize how much fun he had on the tour until I found out he was still talking about it on the air weeks later. A couple years passed and then a pandemic happened, so I thought I was just a gentle memory. Then I got a message from the Live producers asking me to lead a pizza-making segment for National Pizza Day on Feb 9, 2023. That was a blast!
Just a couple weeks later, Ryan announced he was leaving the show. Since Ryan is the big pizza fan, I figured my visits to the show were over. Then I got a text from the show's producer asking me to come back for Ryan's final week to give him a sendoff pizza tour. What an honor! I pitched doing a highlight from each borough, with a different style from each borough. It would have been so easy to bring some Manhattan and Brooklyn pies, but Queens, the Bronx, and Staten Island have such great pizza and NEVER get enough love. The show was way into it and really let me lead the way.
Prepping the Segment
I set up a delivery from each pizzeria the day before our segment. Each pizzeria delivered 2-3 uncut pizzas. When the pizza is cut, the slices tend to slide around in transit and moisture can soak into the crust. They're much less sloppy when delivered uncut and also easier . Cut slices tend to dry up and curl at the tip, so it was important to avoid that.
When I arrived at the studio around 7:15am on the morning of the segment, I got right to work with the show's culinary advisor Marie. We prepped the reheats and post-bake adornments then set up the flow of the segment for maximum interaction so the viewers weren't just watching me talk about pizza. It's always interesting to see how TV producers translate information from reality into a language the viewers will enjoy.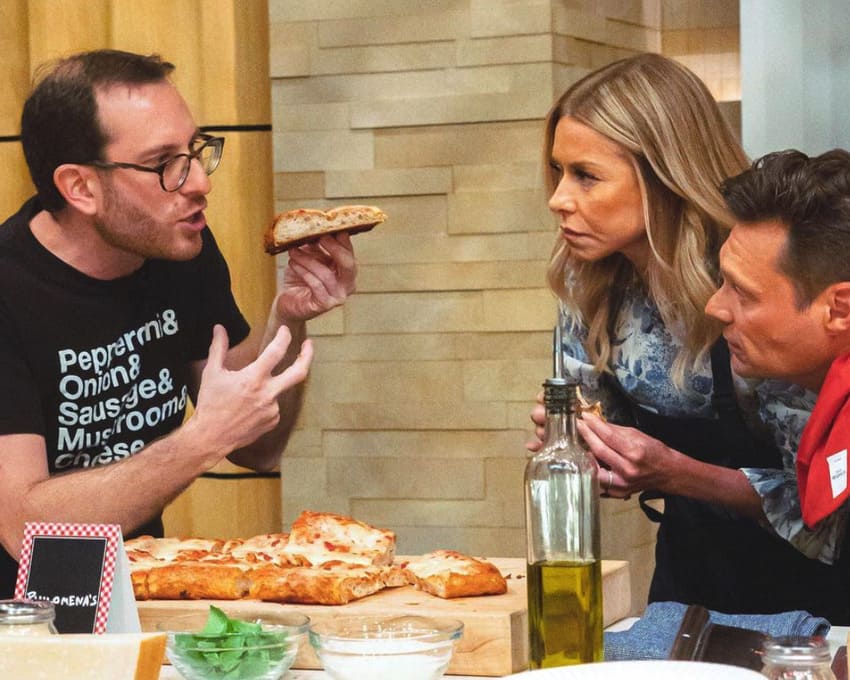 Going LIVE
This segment was LIVE on the air, so we had to be ready to rock. Fortunately I had already worked with Kelly and Ryan before, so it wasn't too weird to be in the studio in this situation. The producers kept reminding me that we might need to fill time if we run out of pizzas to talk about. I reminded them that I spend 3-5 hours talking about pizza every day, so the hard part would be cramming all the chatter into two tiny segments. We spent the first segment talking about pizzas from Staten Island, Brooklyn, and the Bronx. The second segment was all about pizza from Queens and Manhattan. To close it all out, I gave Ryan a special gift: a Pizza Tour Utility Belt packed with all the tools our guides bring on every pizza tour. It includes all the staples: portable pizza slicer, stain stick, spice packets, infrared thermometer, etc. The icing on the cake was that I had the pouch customized to say "SEACRUST," the nickname I gave Ryan on our pizza tour shoot back in 2018.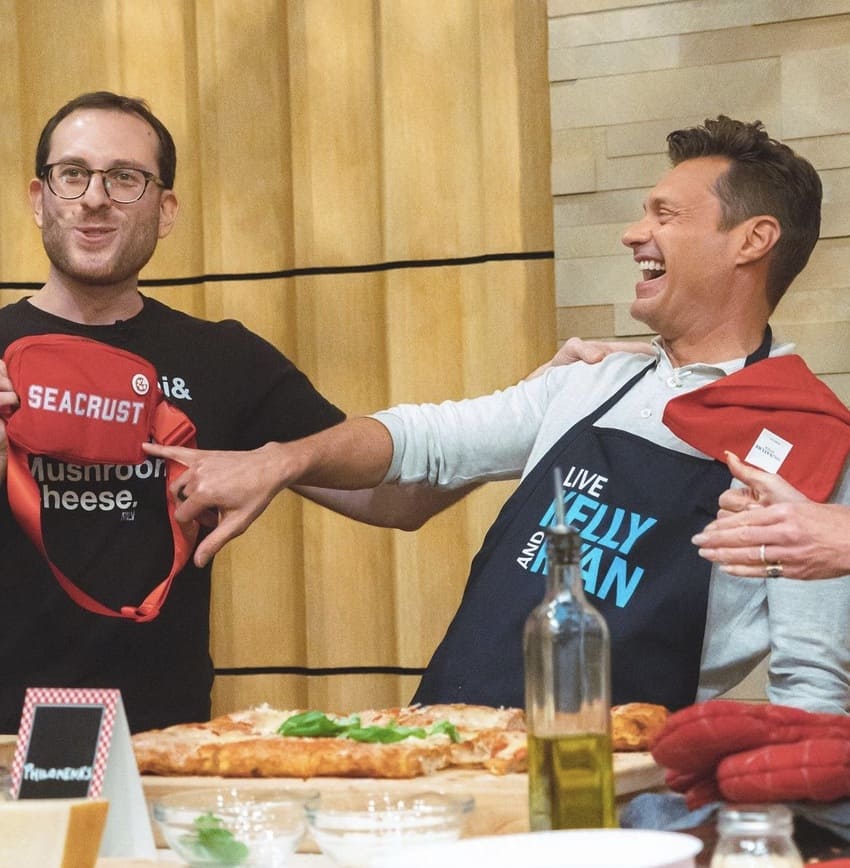 The Pizzerias
It was hard to narrow down the pizzerias. We decided to stick to one pizza from each borough and each pizza had to be a different style. Here's what we ended up with.
MANHATTAN: Keste Pizza & Vino, a Neapolitan pizzeria in the Financial District just a block away from South Street Seaport. We featured their Salsiccia e Pistacchio pizza, which has a delicious pistachio pesto.
QUEENS: Philomena's, a newish pizzeria helmed by the fantastic and lovely Dave Acocella. We ate their Margherita Square, a lighter-than-air pizza that's made with a 90% hydration dough that gets baked twice for extra lightness.
THE BRONX: Louie & Ernie's, a fantastic neighborhood slice shop located in an old house. I had Victoria Tiso deliver the sausage pizza because it drives me crazy I love it so much.
BROOKLYN: L'industrie, one of the hottest spots right now that I actually took Ryan Seacrest to back in 2018. We had Kelly Ripa add the pizza's signature burrata, parmigiano, basil, and olive oil before we scarfed our slices.
STATEN ISLAND: Joe & Pat's, the absolute classic thin crust spot on Victory Blvd since 1960. This is an incredible pie that snaps when you fold it. It was the perfect lead-off in our segment.