Back in July, NYC passed the Open Restaurant Program. Restaurants with enough sidewalk space could set up properly distanced tables in front of their storefronts and restaurants located in front of parking spaces could turn them into extensions of their restaurants. Before this, restaurants were stuck with only takeout and delivery options since indoor dining seemed like a really bad idea. You can find the specifics on NYC's outdoor dining parameters here, but the basic framework is simple. Don't block the sidewalk, don't block bus stops, don't block turning lanes, leave enough room for pedestrians, don't block other businesses, etc. NYC streets aren't usually the ideal place for dining, but a combination of reduced traffic on the streets and absolute dire necessity make it a fantastic solution. Unfortunately, restaurants without ample frontage or parking spaces are out of luck. For everyone else, this is the only way to stay afloat at a time when the restaurant industry is being decimated.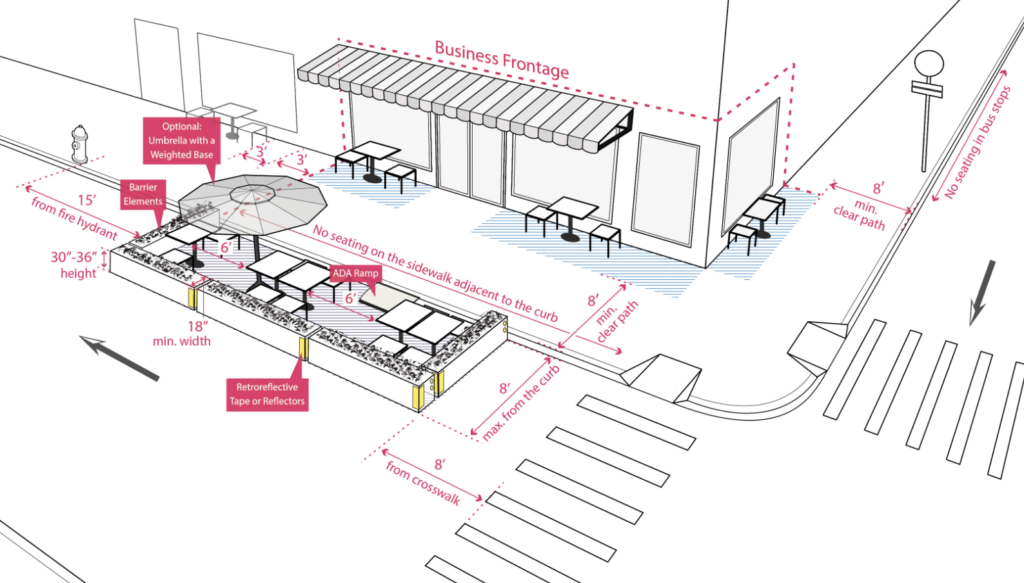 Outdoor dining remains in effect through the end of October and indoor dining ramps back up with 25% capacity starting September 21. Some restaurant owners are still wary of opening back up because they're afraid of another spike or turning weather forcing them to close again and lay off their freshly (re)trained staff. It's not easy for restaurants right now which is why I'm begging you to support your favorites however you can. Order takeout, reserve a table, purchase gift certificates. Outdoor dining has actually been pretty amazing and some pizzerias have really taken it to the next level with their setups. Here's a rundown of a few spots I've checked out over the past few weeks.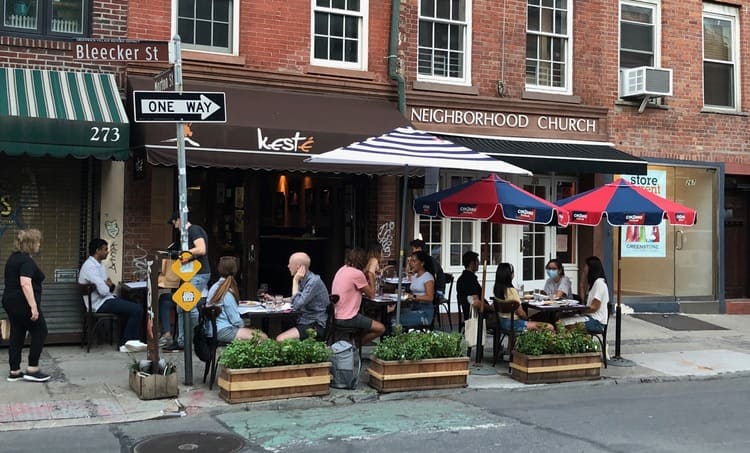 Keste's Greenwich Village location is super tiny with frontage that only spans about 15 feet. They don't have a parking space out front (that green bit is part of a bike lane) so they're limited to just a few tables. With a church on one side and an empty space on the other, it's frustrating that they can't add more tables since their neighbors aren't restaurants. But that's the rule and Keste is doing a nice job following them!
---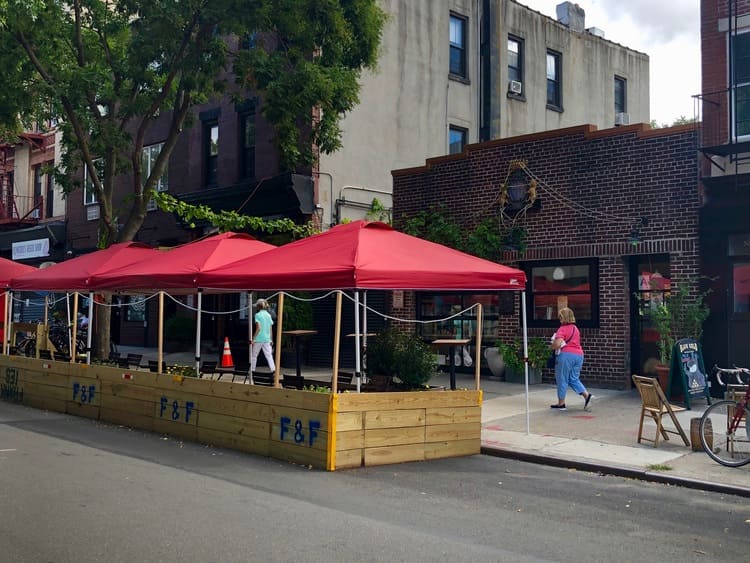 This is one of those amazing cases of a pizzeria getting MORE seating outside than they usually have inside. F&F has a little courtyard area, but besides that it's just a couple standup tables inside. This curbside seating is simple and practical – just like you'd expect from a New York pizzeria. They have some foliage and the tents are a huge plus, but beyond that it's just some tables and chairs. Perfect.
---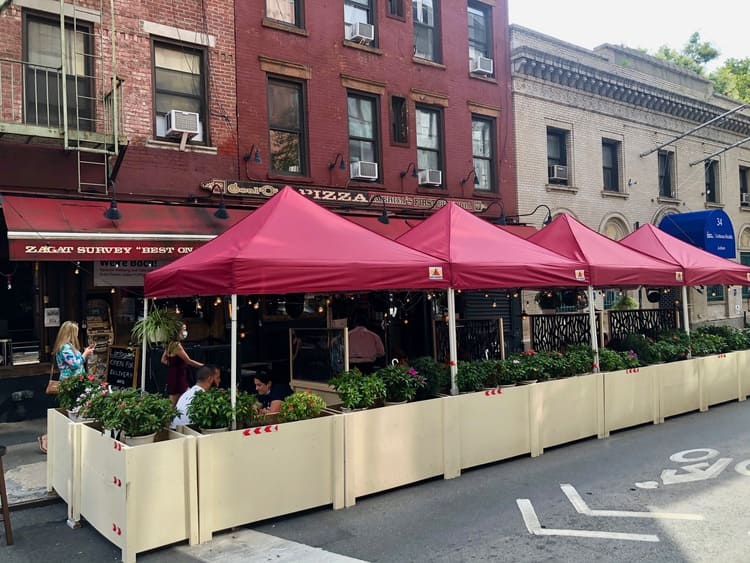 Lombardi's
32 Spring Street, Manhattan
It's tough to see from this angle, but Lombardi's is using dividers to give privacy and safety to their customers. They technically rent two buildings and one is on a corner, so they get a pretty good amount of space to work with on the curb. Sidewalks in SoHo are tight, so no dice there. But they have some plants and tents and actually provide an even nicer version of what you'll find inside. Too bad it's not nearly enough capacity to support a place like this paying big rents to two landlords. That's why for the first time at least since its reopening in 1994, Lombardi's is selling pizza by the slice. This was previously unheard of since the old coal fired pizzerias just don't do it (except for Patsy's). It's not their normal pizza, it's a newly added grandma pizza, but it's something for passers by. Not everybody can sit down for a $19 pizza.
---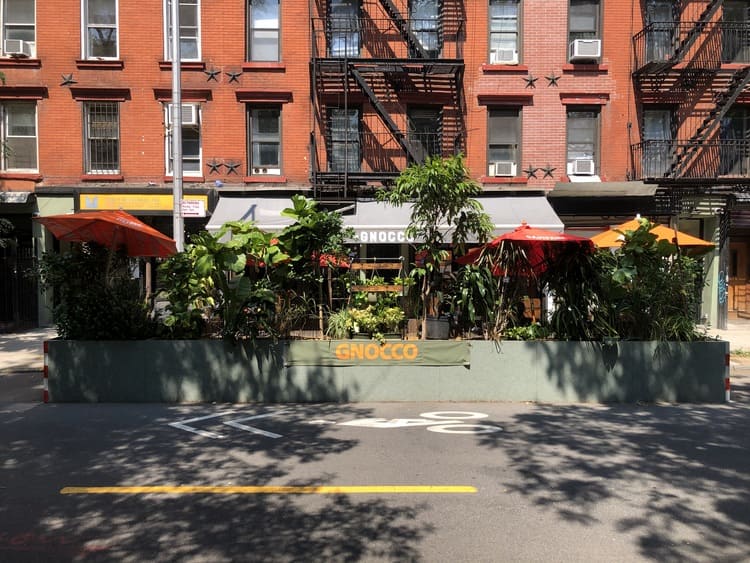 Gnocco
337 E 10th St, Manhattan
Possibly my favorite outdoor seating area, this one is PACKED with funky plants that really make you feel like you're not sitting next to a bus stop. Gnocco has been around for nearly 20 years and they're somewhat of a neighborhood secret. There's a courtyard seating area I already love and now this. Brilliant. Gnocco is in Alphabet City, a subsection of the East Village which is itself a subsection of the Lower East Side. Tompkins Square Park is right across the street, but besides the activity of basketball players it's a pretty quiet block, ripe for outdoor pizza eating.
---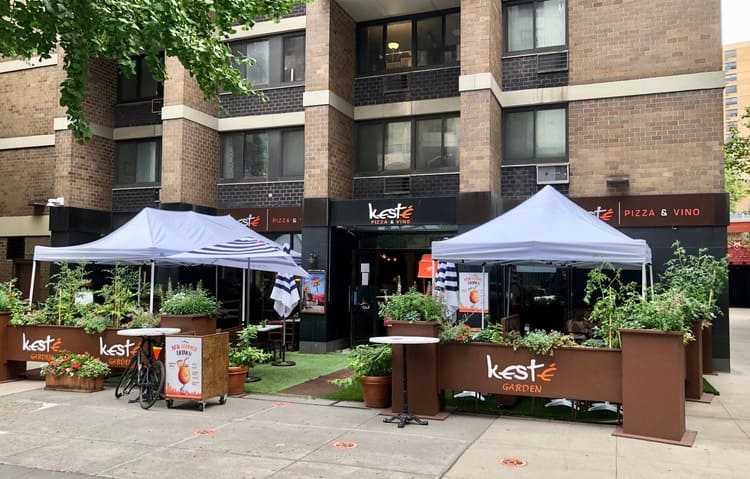 Rare is the pizzeria, or any restaurant, with this much sidewalk space. Keste's downtown location (corner of Fulton and Gold St, one block away from South Street Seaport) more than makes up for the tiny sliver of sidewalk awarded to its Greenwich Village counterpart. This huge plaza gives them enough room for two discreet areas. I love the astroturf! And I also love the idea of branding the outside space "Keste Garden," I think that's really smart. Hopefully they'll be able to expand a bit more because this is still not as much space as they have inside.