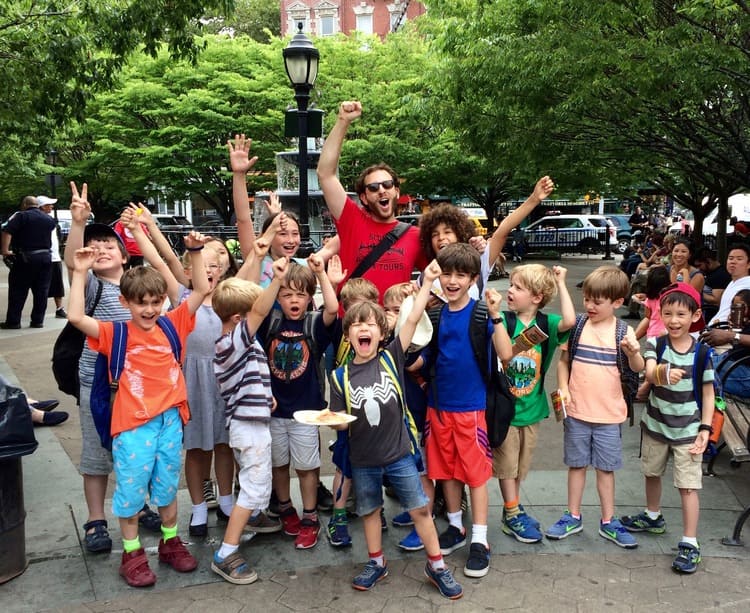 We're delighted to announce our return to in-person New York pizza tours in just a few weeks. We've been anxious to get back since our last tour back in March 2020. Tours will still follow the necessary COVID safety guidelines, but that doesn't mean we can't still get our slice on. The NYC pizza landscape has seen some really interesting changes over the past year so these tours will be fresh even for experienced pizza tourists.
May 15 – Private Walking Tours Return
Did you know that May 15 is National Pizza Party Day? I didn't either until I started poking around online. These arbitrary food days only exist for bored social media account managers, but this one just so happens to fall about three weeks after my second vaccine dose so it makes sense to get back into the loop with tours. Private New York pizza tours will be limited to 16 people and we're only doing them on foot. No bus tours until July. Fill out a request form if you're interested in taking a private walking pizza tour!
June 11 – Public Walking Tours Return
June 11 is Pizza Margherita Day, but this isn't just another random celebration. The famous letter from Queen Margherita so Signore Rafaele Esposito that some believe to mark the creation of the Pizza Margherita is dated June 11, 1889. The story has plenty of plot holes, but we'll celebrate it anyway by kicking off a fresh schedule of public pizza tours. Take a look at our public pizza tour schedule and sign up now! Tour groups will be limited to 12 guests so we can spread out safely while eating.
July 11 – Bus Tours Return
We've got the biggest, safest buses in town with plenty of windows to allow air flow! That means we can head out on pizza tours to Brooklyn, Queens, Staten Island, and The Bronx with a reduced capacity of 21 people. Public NYC pizza tours will run every Sunday and we'll be able to run private bus tours as well.