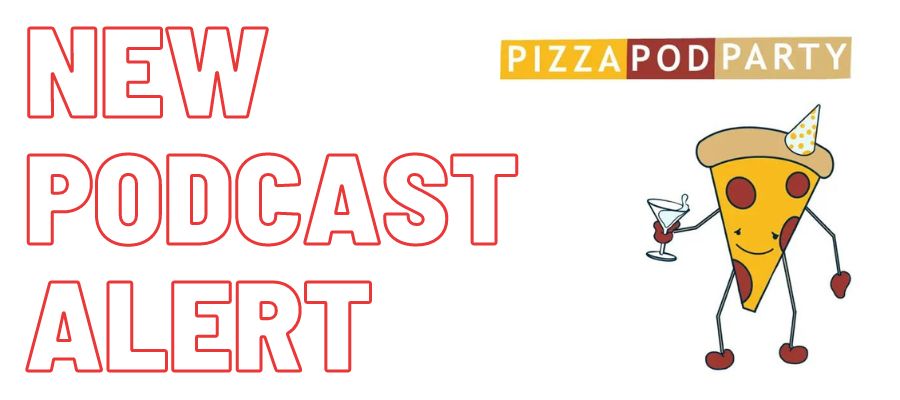 Just over a year ago I posted a listeners' guide to pizza podcasts. There are at least a half dozen and they all approach pizza in different ways. The Hot Slice and Smart Pizza Marketing are specifically aimed at professional pizzeria operators and personnel while Pizza Quest and What's Good Dough are more about the serious pizza fans and amateur pizza makers. But no pizza podcast has successfully attracted the average pizza lover quite like Alfred Schulz and Arthur Bovino have in their new show Pizza Pod Party.
Each episode features a different guest, but unlike all the other pizza shows this one talks to celebrities and public figures who have little or no connection with the pizza business. Guests have included The Daily Show's Roy Wood Jr, professional athlete / journalist Sarah Spain, comedian Michael Ian Black, MSNBC's Ali Velsci, and CBS Sunday Morning host Nancy Giles. En route to the interview, Alfred and Arthur plow through some of the week's pizza news.
If a podcast's depends entirely on its hosts, Pizza Pod Party should have a great run. I've known Arthur Bovino for years as a food writer with a penchant for pizza. He operates under the Instagram account @nycbestpizza and his day job is Head of Pizza Content for Ooni Pizza Ovens. As if that weren't enough, he's also the author of two books about Buffalo food and the creator of The Daily Meal's 101 Best Pizzas in America list (although that list has gone downhill since he left). Alfred Schulz is new to me but this guy has been producing and hosting audio content for over a decade with WNYC (our local NPR affiliate) and Sirius XM. Based on the first few episodes it's clear this guy has some serious pizza opinions.
Check out all the episodes you missed and subscribe so you don't miss any in the future!
Pizza Party Pod on…
Apple Podcasts
Spotify
Amazon Music
Instagram
Twitter