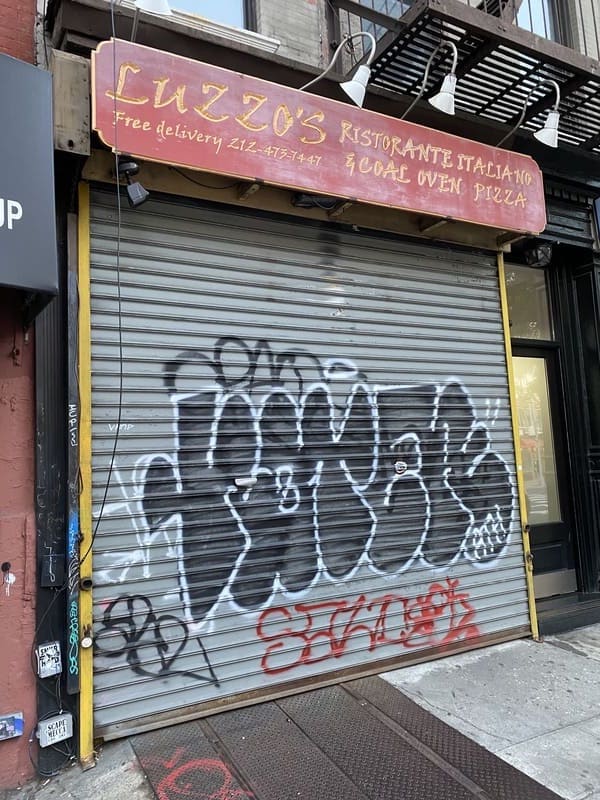 Luzzo's Pizzeria Napoletana (211 First Ave) closed its doors earlier this week after more than 20 years of serving the East Village with excellent pizza. Owner Michele Iuliano says they'll reopen next week just a few blocks away at 15 Ave B. The one thing they can't salvage from 211 1st Ave is an old coal oven. It was the centerpiece of the restaurant and the reason we brought so many New York pizza tours there. I'm sure the new location will be excellent, but we'll always miss the tie to history we saw in that oven.
The closure comes after a long, hard battle with the pandemic. Because it's next to a left turn lane, Luzzo's had no option for outdoor seating. Takeout helped them through the shutdowns and restrictions but indoor dining apparently didn't recapture enough business to keep Luzzo's afloat. Iuliano opened several other restaurants over the past few years (Gnoccheria, Ampia Rooftop, Via Trenta, Da Mikele, and Ovest Pizzoteca) and I felt like the original Luzzo's fell by the wayside. That's not to say any of these things are singularly to blame for the closure. The building had physical issues and a landlord notorious for being… well… an East Village landlord.
Whatever the reason, Luzzo's is now closed and the fate of their coal oven remains in limbo.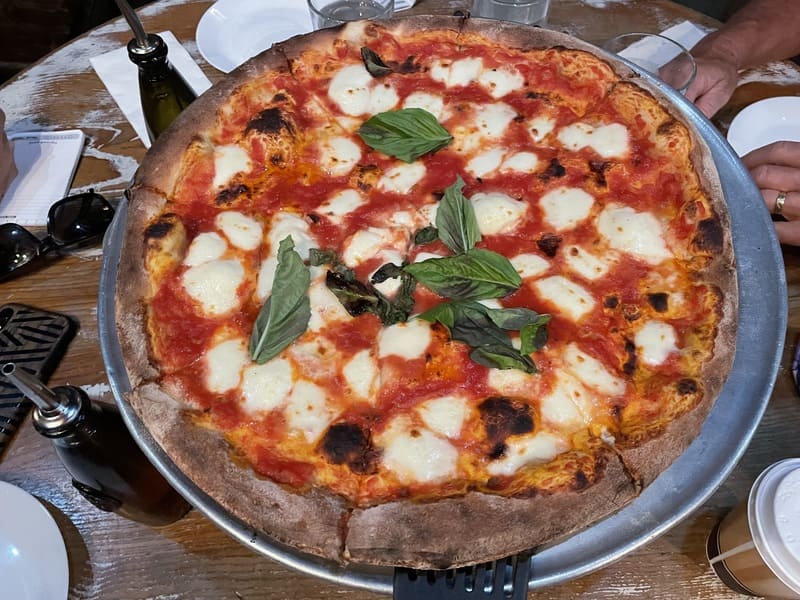 Coal Oven Facts
No, it's not illegal to build a coal fired oven in New York City. It isn't cheap or easy, but the city certainly makes it challenging to pull off. You'll definitely catch guff from the Department of Buildings and from the Fire Commissioner, but building a coal-fired oven isn't explicitly illegal. Need proof? Take a look at all the coal fired ovens that have been built in NYC over the past twenty years. Grimaldi's built a new oven at 1 Front Street in Brooklyn. They also built one on 6th Ave in Manhattan. Then there's the Coney Island location. John's had one on Arthur Ave (now called Fiasco). Totonno's had one on 2nd Ave (now called Patrizia's). Bill Massa built one in Long Island City (now closed).
Coal ovens are legislated the same way as wood fired ovens. Operators need to be careful about using UL listed equipment, heeding fire code and restrictions, and of course they need to install scrubbers to remove potential pollutants from the oven's exhaust ($10-20k expense).
For more fun info about coal ovens in New York City, check out my coal oven history and this piece about NYC's hidden coal ovens.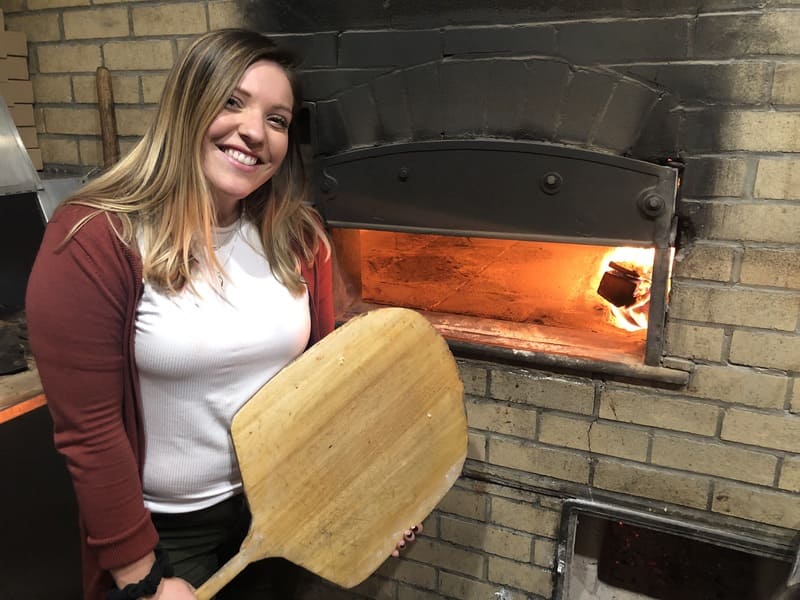 The Oven
The oven at 211 First Ave dates to 1936, when Maurice Rosner of the Rosner Oven Company installed it on site. It took the place of an existing oven, which was smaller than the new model. This space had been a bakery since at least 1917, likely even earlier. The Rosner oven is actually two ovens, arranged in mirrored orientation. Luzzo's only used the left side of the coal oven because the right side would have blocked access to the rest of the kitchen. The bakery made breads and sweets but I have yet to see any direct evidence that suggests they served pizza.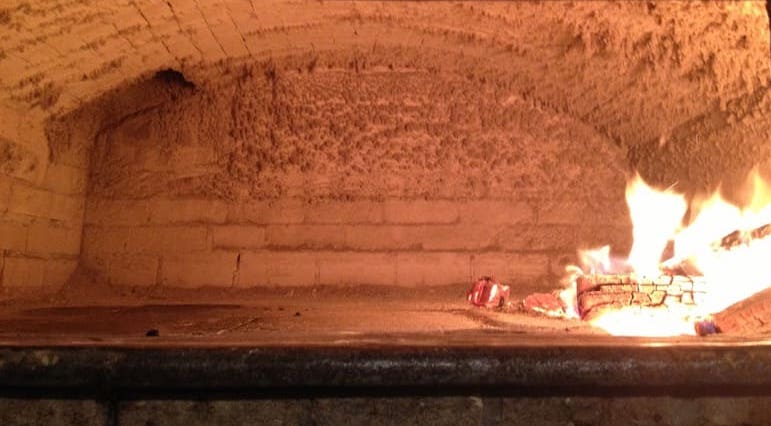 Pizza didn't happen in the space until the late 1990s, when Zito's East opened in the space. They made coal-fired pizza in the old Rosner oven and although I never got to try it, Ed Levine's rave review in New York Eats is all the proof I need to know it was something special. Luzzo's took over a few years later and I had my first exposure around 2005. I loved it instantly. The pizza was a combination of Neapolitan technique and New York sensibility. Really really special. Iuliano added wood atop the coal first to create a truly unique bake. Coal gave the oven prolonged heat while wood provided tall flames.
Why We're Losing This History
Luzzo's coal oven isn't an appliance, it's an appendage. It extends beyond the rear wall of the building, so the excessive heat from the top of the oven won't pass directly into the housing line. The Rosner oven at 211 First Ave has its face just a few feet beyond the back wall of the building and it extends approximately 8 feet to the back of the lot. Owning a building with a coal oven may seem like an asset to a pizza fanatic, but it's a liability for a landlord. Sure, you can attract a very specific tenant for the space but you can't exactly name your price or they'll never stay in business. There's far more money to be made by using the footprint of the oven and all the space above to add or improve housing units. As long as the oven's there, you can't use any of the space above. It's dead space.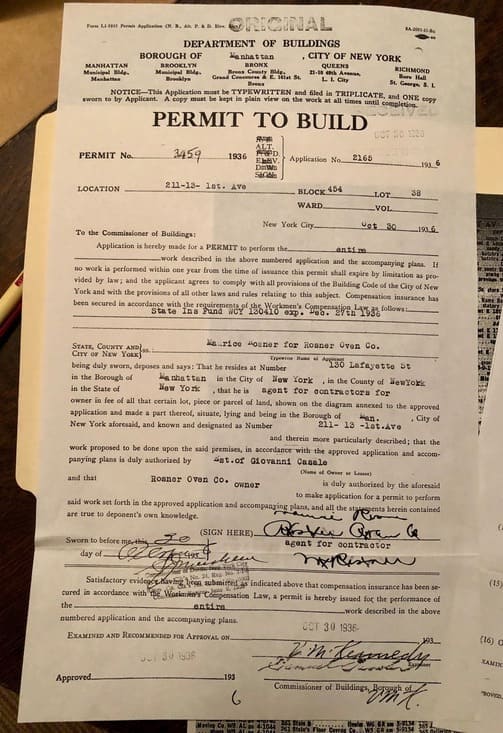 As these bakeries and pizzerias close or lose their leases, the ovens will probably go with them. That's what happened just a few weeks ago at 32 Spring Street. Lombardi's stopped leasing the space in April 2021 and the building owner removed the oven from the back of the lot faster than you can say "well done." New York City has just priced these ovens out of existence. It's sad because they're an important part of NYC's culinary history and there's nothing we can do to save them. Are they worth protecting, or are they just relics whose time has passed?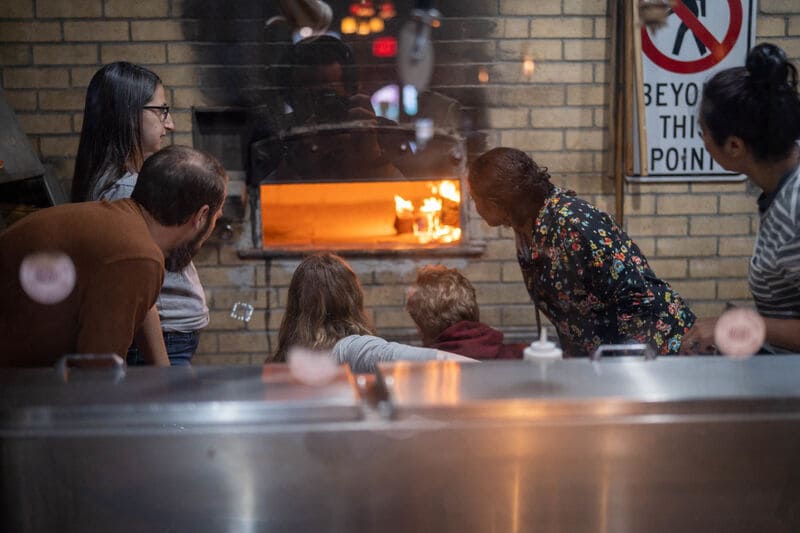 What's Next for Luzzo's?
As disappointed as I am to see Luzzo's leave their space on First Ave, I delight in the fact that we've taken thousands upon thousands of people there on tours. We've talked about that oven so much that its memory will live on in one way or another. The restaurant isn't gone, it's just moving. Maybe it will be a better space with more room and an even better view of whatever oven they install. Word on the street is they'll already be open next week at 15 Ave B. I'll be sure to bike past it next time I'm in the neighborhood.
As for Luzzo's coal oven on First Ave, I'm completely jumping to conclusions here assuming that somebody isn't going to swoop in and use the space to make more amazing pizza. There's always hope! And if some hero does save the oven, I'll be there first one there to buy a pie.