Our Inside the Pizzeria virtual tour series continues with Wheated, located in Ditmas Park, Brooklyn. The live tour happened on Sunday, February 14 and I was on site at Wheated providing commentary while we watched the crew at work.  Big thanks to owner David Sheridan and his trusty crew at Wheated (Stefan, Teddi, Craig, Michelete and Isheka).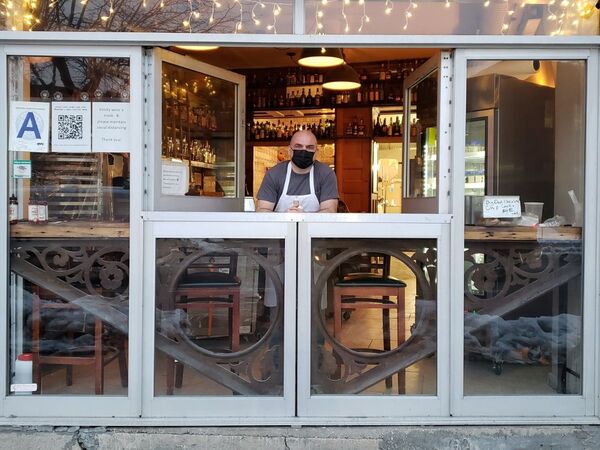 David Sheridan opened Wheated in 2013 after nearly losing everything. While the restaurant at 905 Church Ave was still under construction, Hurricane Sandy flooded the storage facility that housed Wheated's brand new Moretti ovens. Insurance wouldn't cover the loss so David launched a crowdfunding campaign to purchase a replacement. 
When the pizzeria finally opened, it introduced an uncommon style of pizza to Ditmas Park, a mostly residential neighborhood south of Brooklyn's Prospect Park. Unlike the area's slice joints, Wheated specialized in sit-down service of personal-sized artisan pizza. The dough was entirely leavened by sourdough starter and the topping combinations went beyond the typical pepperoni and mushrooms.
The pizzeria's name is a dual reference to David's two loves: dough and bourbon. I don't know anything about bourbon, but from what I can tell "wheated" bourbon is made with wheat instead of rye and has a sweeter, fruitier flavor. David loves wheated bourbon and the pizzeria boasts a collection of over 1,000 unique bottled, or at least it did before COVID.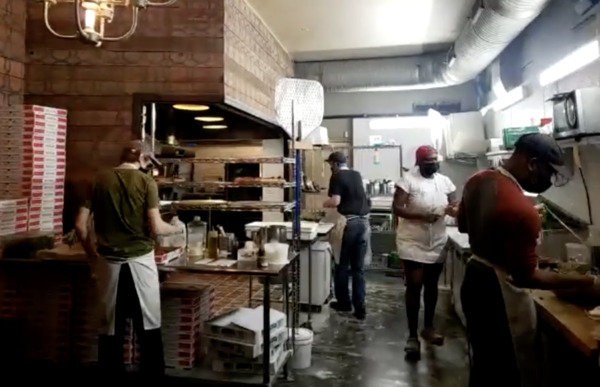 Very early on in the pandemic, David told me he was making some big changes to the restaurant. Since indoor seating was out of the question for the foreseeable future, he removed all tables and chairs and extended his kitchen to make room for a broader menu. David sold off a big chunk of his whiskey collection to fund construction. He also added a second oven to make way for a new pizza format. No longer would 12" pizzas make sense, so he upped the pizza size to 18" and crafted a family-sized pie better suited for take-out.
Here's a breakdown of the most important questions that came up during our virtual tour.
THE DOUGH
Q: How does protein differ between 00 tipo and normal all purpose flour?
A: The "00" designation doesn't have anything to do with protein so it's hard to generalize about this. The most common "00" flour in the U.S. has a relatively low protein content close to that of all purpose flour but that's not always the case. That term "00" means that the flour has a low extraction and low ash content. Extraction is the percentage of flour derived from wheat. So if 100 lbs of wheat is milled and then sifted so that only 70% remains, that means it's a 70% extraction flour. The "00" designation refers to 45-55% extraction flour. Ash content is the amount of extraneous material in the flour. Low ash is always a good thing. 
"All purpose" is reference to protein content, which for that type of flour is usually around 11%.
Q: What's the dough process and fermentation situation with this dough?
A: David uses less than 5% sourdough starter plus a very very small amount of commercial baker's yeast (he says it's a small fraction of a percent). The dough is mixed in a spiral mixer for four minutes on low speed, then another 4 minutes on high speed. After the mix, it gets a 2-4 hour ambient bulk fermentation before going into the cooler for a nap. The next morning, they'll ball the dough and let it rest in a warm or cold spot depending on ambient temperature (cold spot in summer, warm spot in winter) until it looks active and puffy.
At that point, the dough goes back into the cooler. One reason is to slow down the rise so they'll have more control over when they need to use it. Another reason is that the team at Wheated prefers the stretch of a colder dough.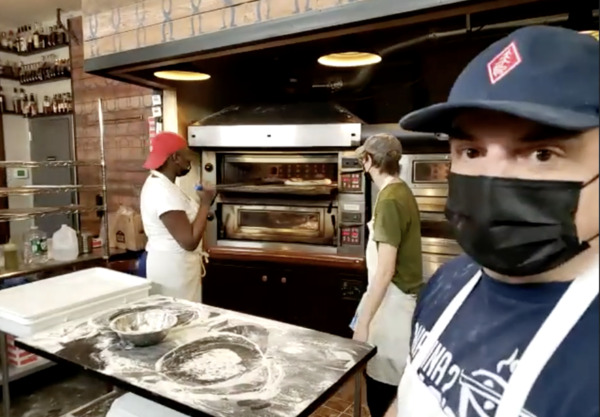 THE OVENS 
Q: What kind of oven does Wheated use? 
A: Wheated uses electric ovens. These ovens are easy to control and they bounce back faster than gas ovens. 
Q: What's the oven temperature?
A: Before COVID, Wheated baked pizzas at around 725°F. Now that they're making larger pizzas, they've lowered the temperature to 650°F and lengthened the bake. The idea is to remove as much water from the dough as possible so the pizza won't get soggy inside a pizza box. 
Q: If this is David's first restaurant, where did he learn pizza making?
A: Back before Wheated, David built a wood-fired oven in his backyard. He honed his chops there, then interned over at Paulie Gee's to pick up on some operational best practices.
THE CHEESE
Q: What kind of cheese does Wheated use?
A: Wheated uses an interesting method that's unlike most modern pizzerias but has a lot in common with the pies at older pizzeria in the U.S. He applied cheese directly on top of the dough and sauce on top. This cheese, a high quality low moisture mozzarella, provides a layer of separation between the dough and sauce while adding a silky texture to the bite. 
The team at Wheated sliced cheese on site using an automatic slicing machine. They lovingly refer to it as "The Rolex" because of its incredible precision. Each slice is about half an ounce and the pizza gets 14 slices of cheese.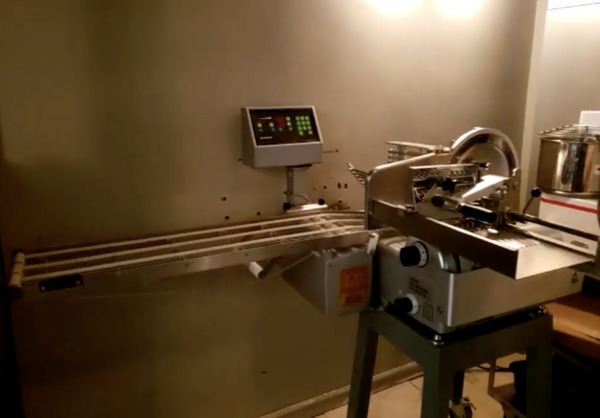 Rather than dealing all 14 slices onto the pizza as they build it, Wheated's pizza makers layer cheese slices onto wax paper during downtime and morning prep so that when an order comes in they can simply flip the disk of cheese directly onto the dough skin. It's pretty amazing to watch.
Pizzas made in this fashion then get sauced and often receive another layer of cheese above the sauce in the form of a very dry version of fresh mozzarella that's diced into 1 inch chunks.
THE PIZZA
Q: What changes did David make to the dough when transitioning from small pies before COVID to the larger pies he's making now?
A: To build a sturdier pie David switched to a higher protein content flour. That means the dough is stronger and easier to stretch into a large skin. Obviously the dough ball is also larger. The only other change has been the addition of a tiny amount of commercial yeast.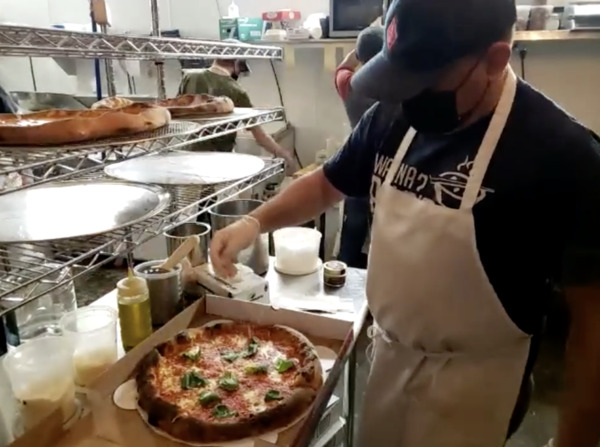 Q: Will Wheated continue making large pizzas after COVID or will they go back to making smaller pizzas?
A: This is hard to foresee, but David's hoping to keep the large pizzas. It all comes down to the economics and his oven capacity.
Q: What are David's most significant pizza influences? 
A: Throughout the tour, David mentioned Totonno's (Coney Island) and Apizza Scholls (Portland, OR) the most. Both make their pizzas with the sauce on top of the cheese, which is what you'll find on most pies at Wheated. David also cited Apizza Scholls's owner Brian Spangler as a huge inspiration and mentor in terms of his dough.
BOURBON
Q: What is David's favorite bourbon?
A: While he loves the fancy stuff, David called out Maker's Mark as his go-to bourbon. 
Q: How many unique bottles does Wheated hold now, after selling off part of the collection?
A: There are still about 650 unique bottles at Wheated! If you're interested in purchasing one, contact David and see what he's willing to part with.
NEXT UP ON "INSIDE THE PIZZERIA"
Join me on February 28 for a virtual tour of Keste Pizzeria. We'll meet owner/pizzaiolo Roberto Caporuscio for a look at his dough fermentation process and multiple pizza ovens. You can view all our online classed and virtual tours here.