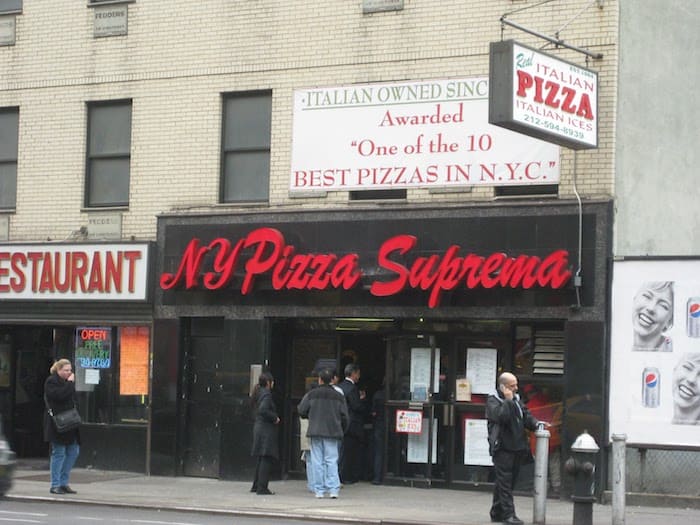 Last week I stopped by NY Pizza Suprema for our bi-weekly Inside the Pizzeria virtual tour series. We've been visiting Suprema for over a decade on our New York pizza tours and it's always a crowd favorite. Suprema is a classic slice shop located directly across the street from Madison Square Garden and Penn Station. Joe's father, Sal Riggio, opened the shop in 1964 selling only cheese pizza. Now Joe runs the pizzeria with a healthy mix of tradition and experimentation. Big thanks to Joe and his staff for giving us such great access and for answering everybody's questions. Here's a rundown of the most significant points we learned during the tour, which I've summarized and paraphrased based on Joe's responses. All images are from the live video presentation on Sunday, Feb 28, 2021 besides the image above.
THE PIZZERIA
Q: How did your father Sal get into the pizza business?
A: Two of my uncles (Sal's brothers-in-law) owned pizzerias and got him into the business. Uncle Pino (married to my aunt Jenny) was the first in the family to own a pizzeria, Valenti's Pizza on 5th Avenue and 12th Street in Park Slope. It was across the street from Neergaard Pharmacy, which was open 24 hours. My aunt Rosalie's husband Vinnie had a pizzeria with Pino over on 18th Ave in Bensonhurst but they had a falling out so Vinnie split off and opened J&V Pizzeria, which is still around. Vinnie came from Naples and Pino from Sicily, as did Sal. To read more about Valenti's and the family's otheer pizzerias before Suprema, visit the Pizza Villa website.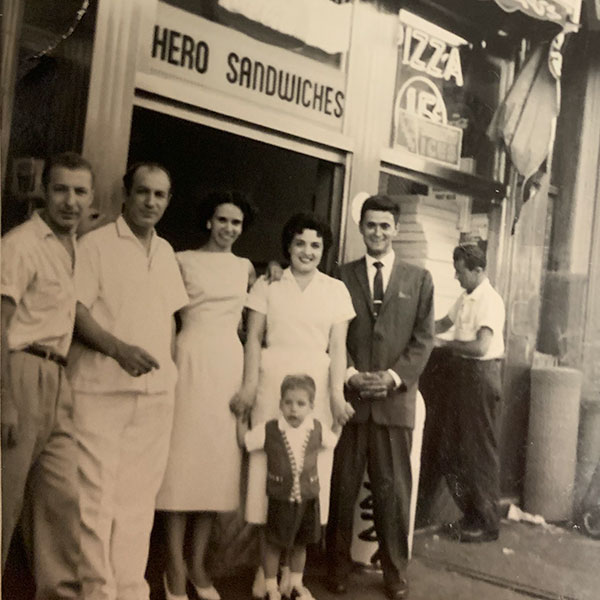 Before Suprema, Sal owned other pizzerias that didn't work out so well. He once owned Elegante Pizzeria in Bay Ridge but left due to a faulty partnership. Sal went on to own a pizzeria on Myrtle Ave near Metrotech, which he closed because the neighborhood wasn't safe at the time.
The move from Brooklyn to Manhattan required a leap of faith inspired by my mother Maria. A building near the corner of 8th Ave and 31st Street became available, but Sal wasn't interested. When he was a boy, Sal delivered telegrams for Westeern Union. He would look down 8th Ave from the steps of the central post office and think about how he never wanted to work on that bleak and dismal block. But my mom persisted, pointing out that the building recently had a luncheonette (Riker's) and therefore wouldn't need any major remodeling.
RCA Institute was located right around the corner, guaranteeing a steady flow of business from students. They also knew that Madison Square Garden was slated to move directly across the street in just a few short years. My parents bought the building, opened the pizzeria, and here we are nearly 60 years later.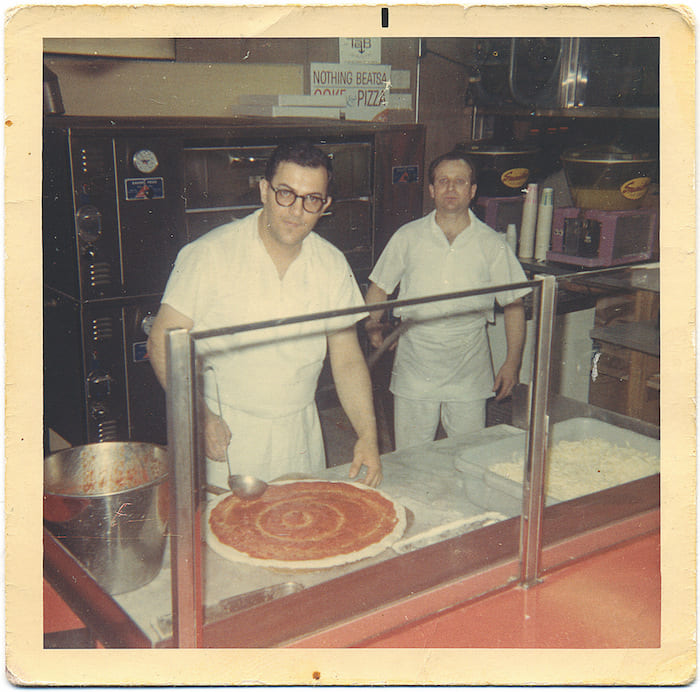 Q: What's up with the name?
A: That was actually a mistake. My father spoke with the sign maker over the phone and while he said "NY Pizza Supreme" the sign maker heard "NY Pizza Suprema."
CAPTION: Photo of Sal leaning on a car while living in Carroll Gardens. Sal came to Brooklyn from Sicily when he was 9 years old.
Q: The decor is pretty classic. Can you tell us what elements are original?
A: Most of the terrazzo floors were here when we moved in. You can see that the floor along the north side of the restaurant is slightly different in color from the rest because we installed that when we expanded seating and moved our walk-in box (refrigerator) into the back.
I don't like the tiffany style lamps over the tables but my father did and my customers won't let me replace them. They're classic so as much as I'd like to, I don't think I'll be getting rid of them anytime soon. The same goes for the booths (Plymold Contour Booths). These things last forever and you don't see anywhere near the wear and tear you'd get from tables and chairs.
EQUIPMENT
Q: What ovens do you use?
A: My father put in four Morello deck ovens (gas fueled). Those are really just Baker's Pride ovens with a different nameplate. I brought in two Bari ovens (gas fueled) to increase our capacity. We run our ovens around 500-600°F most of the time, cranked a bit when we're busy and lower when we're slow.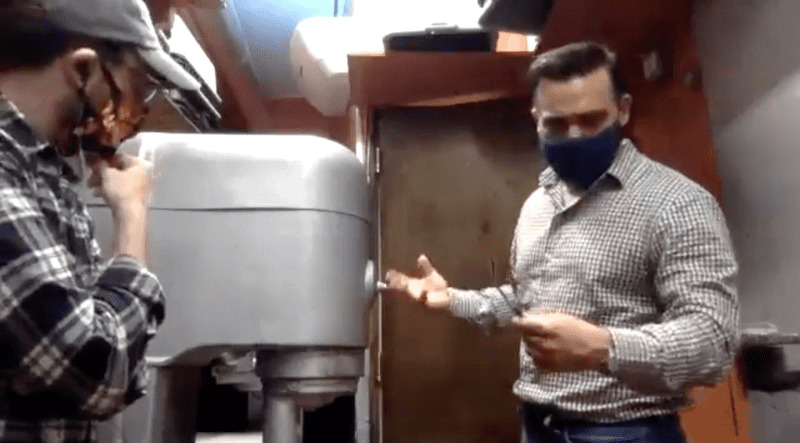 Q: The dough mixer looks like a tank. What is it?
A: We have two dough mixers, a main machine and a backup. The backup also has a built-in cheese shredder, so we use that daily. The main machine is a Hobart M-802. It's an 80 qt mixer but we added an extender to the bowl so we can get 100 quarts in there. The second machine is a Hobart L-800, also an 80 quart capacity.
Q: You mentioned moving the walk-in box from the front area to the back. Was that here when Suprema opened?
A: Yes that's leftover from the luncheonette. This is a really special refrigerator because it works with coils instead of fans. Without fans running all the time, I can keep dough in here uncovered for the first hour or two of fermentation and it won't dry out. I mainly use this walk-in for dough but also store the day's sauce and cheese.
INGREDIENTS
Q: Let's talk about cheese. What are you using?
A: We shred our own mozzarella in house. This lets us get thick shreds that won't burn in our ovens. The cheese we use is Grande whole milk low moisture mozzarella. The key to our pizza is that we don't use very much mozzarella. The pizza gets a generous amount of imported pecorino cheese, then a scant amount of mozzarella. I want people to see sauce through the cheese.
Q: What about your sauce?
A: We have several different sauces so it depends on which pizza you order. A few of our pies have their own sauce (upside down sicilian, pizza marinara, pizza Margherita, pickle pizza) and then there's a sauce for our round pies. As for the tomato, I'm a huge fan of California tomatoes. Everybody talks about San Marzano but I'm just not a fan. If they were the best, I'd use them. I use a Stanislaus product called Saporito filetto di pomodoro. It's strips of whole peeled tomatoes that come packed in tomato juice instead of paste, so you get the true flavor of the tomato. The sauce is uncooked.

Q: Are there any other ingredients you feel this strongly about?
A: We always put good oregano on our pizza. Bad oregano can kill the pie. We get ours from Greece, Italy, or Turkey.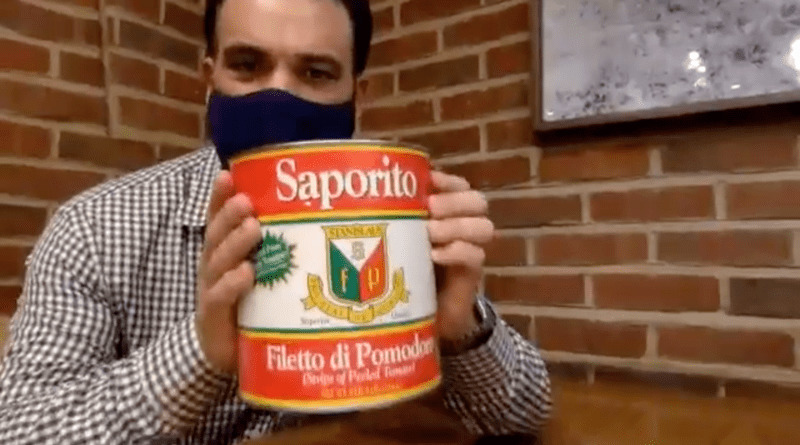 THE DOUGH
Q: How often do you make your dough?
A: We make dough daily but don't use it for at least 24 hours. Back in the day, we used to run out of dough so we'd have to use what we made earlier that day, but I won't let that happen anymore. Young dough just isn't good. I experimented with sourdough recently but it's just too strong a flavor and competes with my sauce and cheese.
Q: What flour product do you use?
A: We've always used General Mills All Trumps, which is the standard in New York pizzerias. I've also experimented with other flour but this just works the best for our pizza.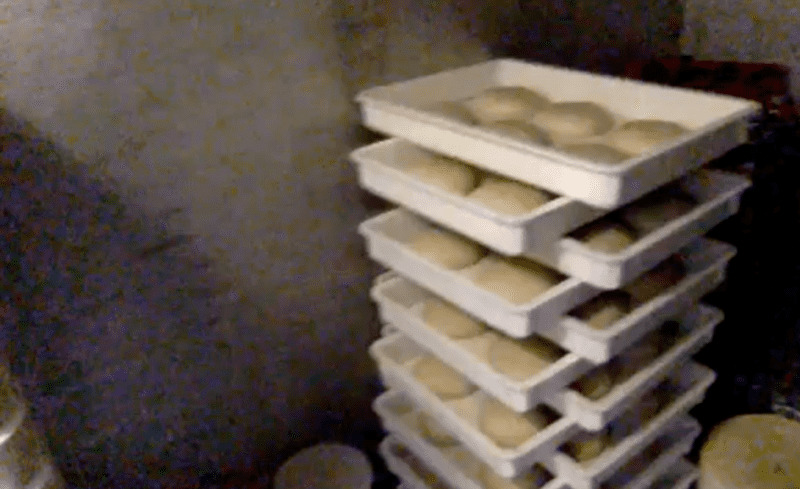 Q: Can you tell us about your dough making process?
A: It's very basic. We use flour, salt, water, fresh yeast, and oil. The amount of oil is extremely low and just helps brown the crust. For that we're using soya oil instead of olive oil. When the dough comes out of the mixer we ball it immediately, then cross-stack our dough trays in the walk-in for an hour or two to bring down their temperature.
| | | | |
| --- | --- | --- | --- |
| INGREDIENT | JOE'S MEASUREMENT | WEIGHT | BAKER'S % |
| Flour | 100 lbs | 45.4 kg | 100 |
| Water | 26 L | 26 kg | 57.3 |
| Salt | 28 oz. by volume | 955 g | 2.1 |
| Fresh Yeast | 1 lb. in winter / ½ lb. in summer | 453.6g / 226.8g | 1 / 0.5 |
| Oil (Soya) | 14 oz. by volume | 397g | 0.9 |
Joe listed his ingredient amounts during our tour and I've transcribed them here.
THE PIZZA
Q: You're one of the only pizzerias in NYC that still twirls their dough in the air. Why is that?
A: I only have 2 pizza makers who are allowed to do that. Throwing the dough incorrectly can create weak spots in the dough and I need my pizza to be uniform in thickness so it doesn't flop over at the tip. My guys like to do it because it turns pizza making into a game. It's fun. It also makes it easier to stretch a large pie, which I find to be laborious. I can't toss pizza, I leave it to the guys who have a real knack for it.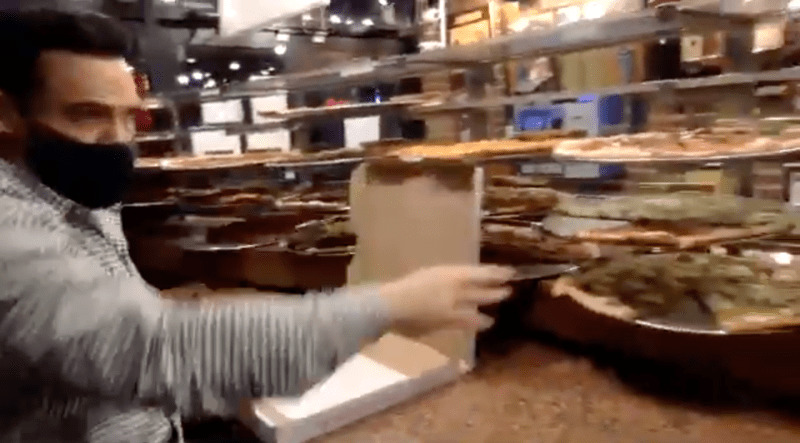 Q: What's the most important aspect of New York style pizza?
A: New York style pizza is all about the charring on the underside of the crust. Without that, the pizza isn't complete. We get that char by moving each pizza to a "virgin spot" for the last 20 seconds of the bake. We have to be very careful because if it's in that spot for too long, the pizza will burn.
Q: You have some really unique pizzas. How do you come up with them? A: I come up with some and my staff comes up with others. I love pickles so I worked on creating our pickle pizza. It's based on a dish of pickled turnips and garlic sauce I eat at a Middle Eastern restaurant in my neighborhood. One of our most popular pizzas has hot honey on it. I'm going to be honest with you, it's my least favorite slice. One of my employees brought in the idea after he saw spicy honey at Roberta's (in Brooklyn). I met Mike Kurtz from Mike's Hot Honey and we became one of the first slice shops to use his product. It's one of our biggest sellers, people love it. It's not just sweet, it has that little bite of heat as well.
THE BUSINESS
Q: What is your current advertising strategy and how has it evolved over the years?
A: We don't really advertise, we rely on word of mouth. In short, we advertise by giving incredible customer service. I have my staff treat every customer like they're a neighbor. Be nice to people. Treat them well. We were doing that even before online reviews, but now people post about how great of an experience they had here and that goes a long way.
Q: Before COVID hit, what were the pizzeria's biggest challenges?
A: Dealing with employees is always the biggest challenge. It's important for us to communicate, so we have meetings so people can air out their differences and move on. You need accountability procedures in a place like this. I need to understand the staff, to be in tune with their needs.
Q: How have third party delivery services impacted your business?
A: Overall they've been helpful. Do they want too much money? Yes. But at the end of the day we're doing better because of them. They've enhanced the whole delivery system and I'm grateful for that.
Q: What have been your big changes during COVID?
A: A few years ago I installed a hatch along our front wall so we could pass pizzas to our guys without interrupting the customer line. That came in really handy when COVID hit because it allowed us to serve customers without letting them inside. Now people can at least come in to get their slices so it's back to just being a delivery pass-through. We also put up plexiglass between each table pretty early on. We'll do anything we can to ensure the safety of our customers.
NEXT TIME ON "INSIDE THE PIZZERIA"
Join me for the next edition of our virtual pizzeria tour series as I visit Paulie Gee's Slice Shop in Greenpoint, Brooklyn on Sunday, March 14 at 6pm ET.