Hawaiian pizza is without a doubt the most polarizing pizza in history. Whether or not you enjoy eating it, the fact that this bizarre pizza is so pervasive begs our attention. Those who had not heard the story of its alleged invention are more likely to have caught wind of the tale in 2017 when Sam Panapoulos died. As co-owner of Satellite Restaurant in Chatham, Ontario (Canada), Panapoulos started selling pizza with canned pineapple in 1962. He claimed inspiration from the growing tiki craze that brought umbrella drinks and grass skirts into the mainstream. The timing makes a lot of sense and it's entirely possible that the long undisputed inventor of the Hawaiian pizza thought he was the first, but recently discovered evidence challenges that claim.
Last week I stumbled upon the Twitter feed of Portland, OR based game designer Neven Mrgan. Some days before, he had posted the discovery of a bizarre pizzeria ad from 1957 and someone tagged me because they knew it was exactly in my wheelhouse. The ad for Pizza Jungle lists some truly inventive topping combinations , such as the Alaskan Pizza (salmon, mushrooms, celery), the English Pizza (pork, beans, chopped onions), and the French Pizza (smoked frog legs, French fried onions, mushrooms) but the one that sticks out the most has papaya, chopped green pepper, and PINEAPPLE — and it's called the Hawaiian Pizza.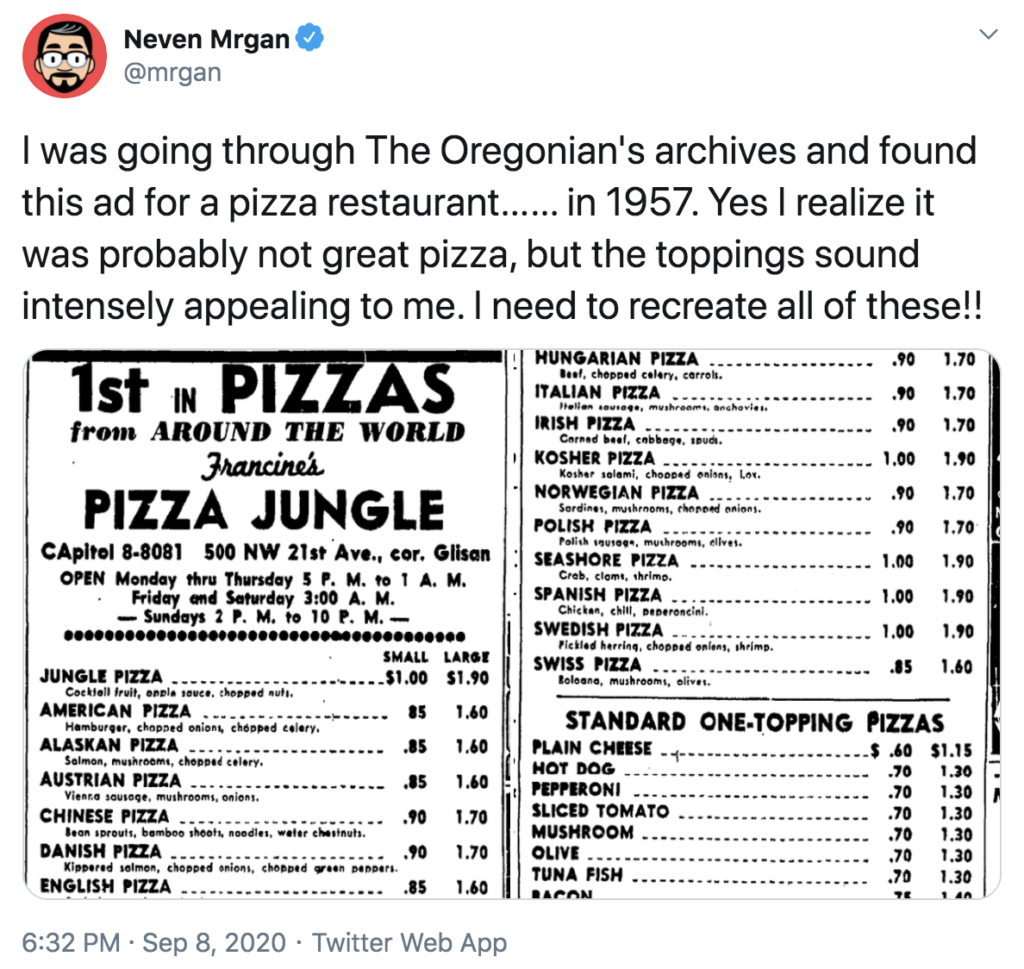 I've searched newspaper archives looking for early references but this had never come up. The pizzeria lasted less than a year so all memory of it apparently vanished, allowing the Satellite story to prevail. It's entirely possible, even likely, that several pizzerias offered pizzas called Hawaiian and some probably used different names for pizzas with pineapple, but this is currently the earliest confirmed instance of a pineapple pizza called Hawaiian.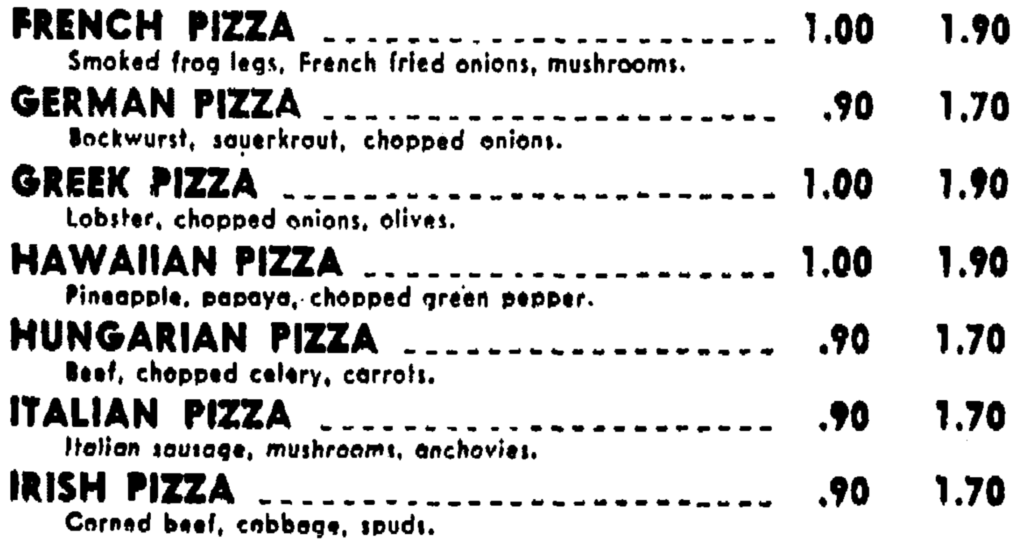 A few years ago I received a menu from Barone's Pizza in Los Angeles and was surprised to see mention of a Hawaiian pizza, listed along with a claim of "Invented at Barone's in 1954." It's interesting that such a specific year is mentioned on the current menu and that the year doesn't correspond with the establishment year of 1945. I've seen some 1960s menus from Barone's and they don't include a Hawaiian pizza, so maybe this claim is not entirely trustworthy. We certainly don't have hard evidence to back it up, but this is the only claim I'm aware of that predates the Pizza Jungle ad.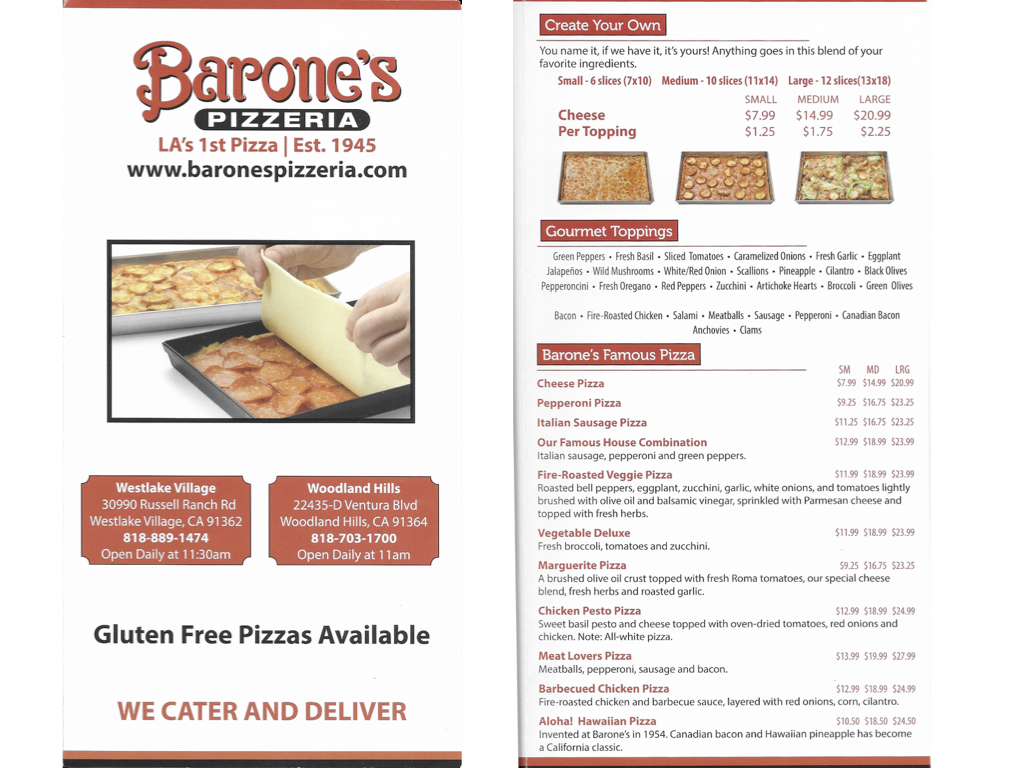 The cool thing here is that we have real evidence that pineapple was used on pizza and, the result was called a Hawaiian Pizza, in 1957 in Portland, OR. It was fun to think about the pizza being invented in Ontario by a Greek immigrant, but that's apparently not what happened. Pizza Jungle certainly didn't kick off any kind of craze but it's only fair that we give them the credit they deserve. Thanks to Neven Mrgan for digging up this fantastic information!