New pizzerias are always exciting, but this one has a fun story that goes beyond the crust. Sottocasa opened just a couple weeks ago with pizzaiolo Luca Arrigoni at the helm. He obviously picked up some major skills from Keste on Bleecker Street, which is where he worked before splitting off to open his own spot.
Some friends and I tried a few pizzas and all were delightful. I especially liked the Reginella, with bright cherry tomatoes and creamy mozzarella di bufala. He also makes an excellent dessert pizza that builds on the popular Nutella filling with some marscapone and toasted almonds. The space is also quite lovely, with a real DIY vibe flowing from the decor. Apparently Luca & Co handled all of the handiwork themselves and it forges a real connection between the staff, food and space.
But I was most intrigued by Luca's oven. It's your usual story about thick brick wood-burning heat chamber imported directly from Italy, but the oven's journey has a very unusual twist. Sottocasa is located in the ground floor of a brownstone near the corner of Atlantic Ave and Smith Street. The restaurant is recessed a few steps below street level but there are no visible obstructions that would prevent the oven from moving to its position near the back of the space. Yet the folks at Sottocasa couldn't just roll the oven effortlessly across the floor and it's the fault of the oven itself.
Sottocasa's oven is a pre-built Acunto and it weighs just over two tons. That's a bit much for old floors to handle, so Luca had to find another way to get the oven in place. Contrary to what anybody thought physically possible, the best course of action turned out to be lifting the oven over the three story building with a giant crane. That's right – they lifted it off a flatbed, over the building, and lowered it into place in the back yard. Insane!

Check out this cool video Luca took of his oven being lifted into the clouds.
Remember that the oven is still too heavy to sit on the floor of the restaurant, so it's actually living on a piece of the backyard. They had to build a special chamber around the oven to make it cohesive with the actual building space. This is exactly why so many old coal-fired ovens in NYC were built beyond the building lines of their respective properties. It's so neat! Here were some photos to better illustrate what's going on.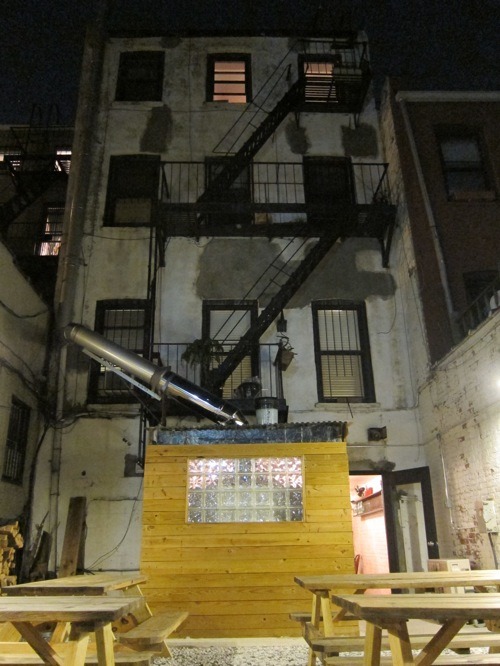 Sottocasa's backyard with the oven-in-a-box visible through the glass.
Luca tending the oven.
Side view of the oven chamber.
Totally awesome! So not only is Sottocasa a worthy visit because of the pizza, but it also has a great oven story to accompany your meal. Check it out…
Sottocasa
298 Atlantic Ave (between Smith St & Hoyt St)
Brooklyn, NY 11201
(718) 852-8758