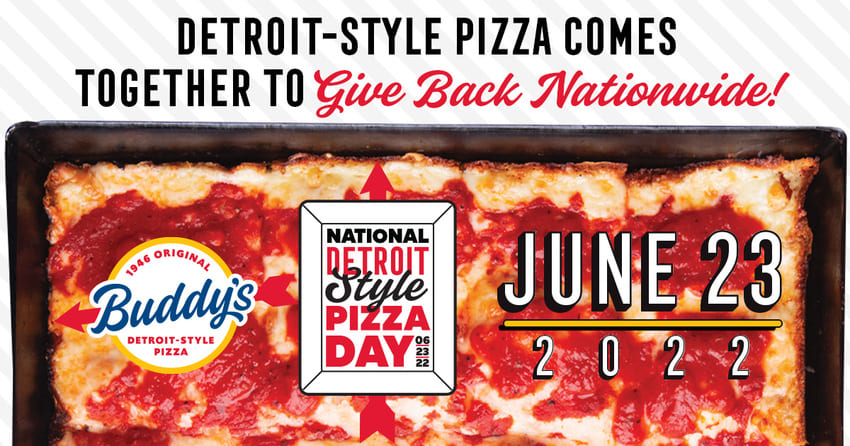 June 23 is National Detroit Style Pizza Day! Like most food holidays, the date is completely arbitrary but the passion behind it is pure. This style has its root at Buddy's Rendezvous, a Detroit bar that added pizza to the menu in 1946. Back in 2011, then Detroit Mayor Dave Bing and City Council created a proclamation deeming June 23 to be "Buddy's Pizza Day" in the city of Detroit. Buddy's is taking the celebration nationwide with this day of celebration. They're even donating $1 to the Salvation Army for each pizza sold today!
This style of pizza is easily the hottest trend in the industry today, but its growth has been recent. The story goes back to 1946 when Agostino "Gus" Guerra, a partner in Buddy's Rendezvous in Detroit, decided to add square pizza to the bar's menu. The recipe was based on his mother-in-law Celia's focaccia. Based on the modern appearance of Detroit style pizza and the fact that Celia was from Caltanissetta, Siciliy it's likely she was making some form of sfincione.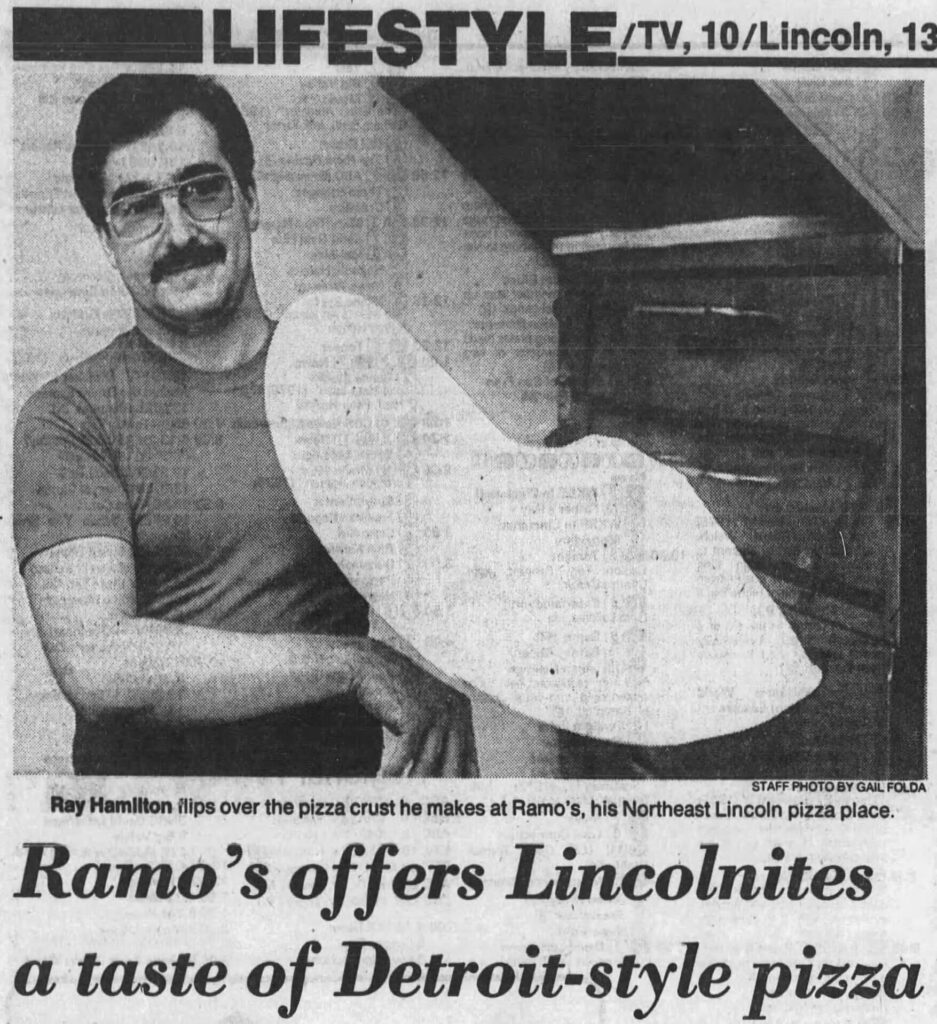 Unlike other Americanized "Sicilian pizza" styles, the one from Detroit has a distinctive charred cheese edge. The first reason is that Gus didn't use typical 1 inch tall pans to bake his pizza, he used 2+ inch steel pans often used in auto manufacturing and maintenance. Makes sense for Detroit! Those tall pans allow the cheese to rest along the pan's sides. The second important factor is the cheese itself. Buddy's uses Wisconsin brick cheese, which is a very fatty cheddar-like cheese. Gus probably used it because it was inexpensive and available in the nearby Hamtramck neighborhood. Another important characteristic is that this style has its sauce applied above the cheese. This hints at the relationship with sfincione, which has no mozzarella at all.
A few years after introducing this deep-pan style, Guerra sold Buddy's in 1953. The pizza remained, but Gus brought the style to his new restaurant in Eastpointe, MI. The new place was already a functioning bar called Cloverleaf. Now there were two places to get this distinctive style of pizza. Fast forward a few years to when a longtime pizza maker from Buddy's called Louis Tourtois took his talents to nearby Shields Bar shortly before opening a pizzeria of his own called Loui's. And then there were four. This is when the rectangular pan pizzas became a legit regional style.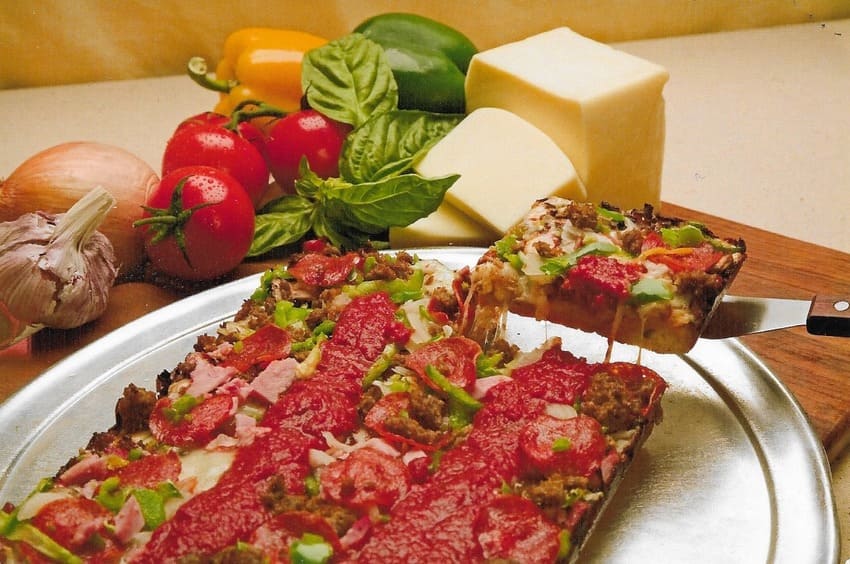 Detroiters attempted to introduce this square pan pizza in new places in the 1980s, but it never really caught on. In 1983, Barry Childers purchased a pizzeria owned by a Detroiter in Houston, Texas. He kept the crew intact and continued making their deep pan pizza. I met Barry at Pizza Expo in March and he gave me the photo above. I don't know when the previous pizzeria started making the thick square pies but I'm certainly interested in finding out. There are a smattering of other newspaper references to this style into the 1990s but it didn't really kick into high gear until 2012, when Shawn Randazzo entered his into a pizza competition in Las Vegas.
Pizza Expo in 2012 was my first exposure to Detroit style pizza. Shawn Randazzo entered his into the Pan Division of the competition. It pie won that year and the rest is history. Pizzerias around the world were exposed to the greatness of charred cheese along the edge and sauce on top. Tony Gemignani added it to his menu in San Francisco and the Hunt brothers opened Via 313 out of a trailer in Austin, TX. Jeff Smokevitch, a Detroit native himself, added the style to his menu at Brown Dog Pizza in Teluride, CO. Matt and Emily Hyland opened Emmy Squared in Williamsburg, Brooklyn. Now you can find Detroit Style Pizza all over the planet.
Why did this style suddenly blast off? I attribute it to 3 factors.
1. CONTRAST: People love contrast these days and the crisp outside contrasts perfectly with the soft inside of a DSP.
2. VISUAL: Instagram pushed exposure worldwide and helped people educate themselves without going to Detroit.
3. LOW LEARNING CURVE: Because it's baked in a pan and has heaving topping coverage, this is an easy style to execute.
Detroit Style Pizza is a new discovery for most of us and today is its special day. Celebrate National Detroit Style Pizza Day by ordering pizza from Buddy's via Goldbelly. You can even get 10% off today by using the promo code DSP10.