View Chicago Pizza in a larger map
I spent a total of two days in Chicago last month and managed to visit 19 pizzerias. It was my first time in Chicago since 2003. I'm not a big fan of restaurant reviews, so think of these more as abbreviated recollections of my experiences at each place. I might do more in-depth reports later but people ask me about pizza in Chicago so often I just want to use this as a quick reference guide. It's split into two parts because Chicago pizza is too massive to fit into one post. Description first, photo below. Enjoy! 
——————————————–
Pizzeria Uno
I hate to start this way, but Uno was the worst deep-dish I tried in Chicago. We ordered the Chicago classic onions-peppers-mushrooms-sausage-pepperoni (someone referred to it as "sticking to basics" – WHAT?!?!) and it was a soppy mess. You can see the runoff in the photo. Veggies were basically raw because they're topped toward the end of the 45+ minute bake. I don't need to ever go back.
Pizzeria Due
As its name suggests, Pizzeria Due is the second location of the more familiar Pizzeria Uno. They're located a block away from each other. Even though the managers claim the pizza is identical, my experience found otherwise. I tried them both back-to-back and liked everything about Pizzeria Due MORE than Pizzeria Uno. If you're on a Chicago pizza pilgrimage you'll have to go to both, but save more room for Due. It's a serious deep-dish pizza.
Coalfire
This was the first pizza I had on this trip and I was really jazzed up when I got there but I still think it would have been my favorite pizza in Chicago even if I tried it last. I know what you're thinking, this is basically a New York coal oven pizza and NOT a typical Chicago style pizza. You are correct, and maybe that's why I loved it. But it's in Chicago so it belongs on this list. It's a domed wood-burning oven but they keep a mountain of bituminous coal piled into the back of the oven for that dry heat. We use anthracite in NYC but Chicago doesn't have easy access so they go with the lighter coal with more moisture content by default. Great crunchy-yet relenting crust paired with creamy fresh mozzarella, a sharp sauce and post-oven basil. 
Barnaby's
This is the weirdest pizza in Chicago. Barnaby's was once a chain with themed restaurants of the "ye olde" variety. It looks like a renaissance fair but with pizza instead of turkey legs. The pizza was not great but still intensely interesting because it shows how pizza was paired with very non-Italian restaurants in the 1960s and 1970s as people were first being introduced to it. I bet it was cool going there as a little kid but not so much when you're looking for pizza that's actually good.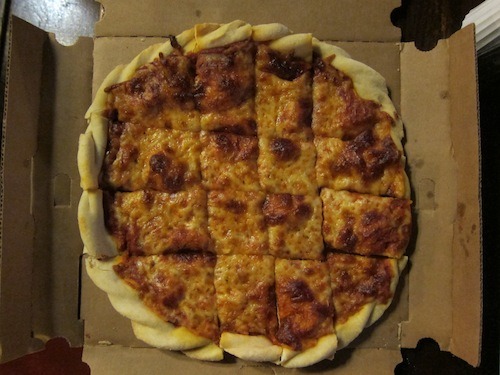 D'Amato's
Besides Coalfire's new coal-burning (but built for wood) oven, there's only one coal burning oven left in Chicago and it's here at D'Amato's. Also like Coalfire, it uses bituminous coal, which likely explains its two-story construction. More on that in another post. D'Amato's is a bakery so their pizza is of the bakery variety…. baked in a pan with a scant amount of tomato and cheese on top. I had a slice with sausage (the BEST topping in Chicago) and it was pretty good. Nothing amazing due to the soft lower crust common in bakery pizza, but still pretty good and very honest. Cookies were good too!
Edwardo's Natural Pizza
I had this one out of the box as part of a book event I was doing at 57th St Books to promote my book Viva La Pizza! The Art of the Pizza Box. They brought in three thin crust and three deep dish pies and they were all pretty good! People get worried about the heft of Chicago deep-dish pizza but Edwardo's uses fresh, natural ingredients so you can rationalize eating a second slice.
Flo and Santo's
Is it Italian? Is it Polish? It's a little bit of each. I liked this textbook execution of tavern pizza and the restaurant itself is on the modern side of things. We had an Italian beef pie and it was pretty solid! If I lived in the South Loop I'd probably come here pretty often. Not necessarily a destination pizza but definitely worth knowing about. 
Italian Fiesta
Rumor has it this is the favorite pizzeria of the Obama family. I gotto say, I really dug it too! It's an old school tavern style pizza and we went to a little walk-up location in a strip mall. You make the exchange through a window of bullet-proof glass. It's take-out only. I love the vibe. Great signage too!
John's Pizzeria
You gotto love these places that haven't been redecorated since the 1970s. John's is a family-run tavern-style pizzeria still using the same Faulds revolving tray oven since it opened in 1957. I really enjoyed this one from top to bottom… great crust with a tasty sauce (not pasty or gunky) and the perfect amount of low moisture mozzarella cheese. Another great hangout!
Lou Malnati's
I remember liking this on my last trip to Chicago in 2003 and I felt the same way this time around. In fact, I think it's safe to call this my favorite deep-dish pizza in Chicago. It feels like the perfect definition of the style and I really enjoyed it. We ordered one with sausage – a thick patty of it! Really a meal of a slice, I can't imagine eating a second one. Then again, this was the last stop on my short trip to the Second City so it speaks volumes that it held up.
——————————————–
I know what you're thinking: Most of these pizzas are thin! Yes, most pizza in Chicago is thin crust. It goes back much further than their deep-dish, which surfaced in 1943 and didn't gain popularity for another two decades. Most Chicagoans prefer thin, round-yet-square-cut South Side Tavern Style pizza but rally behind Deep Dish because it's more recognizably different from pizza from every other part of the world. Deep dish is more for celebrations or when pizza tourists like me come out for a visit from New York. Big thanks to Jon Porter for routing the majority of my pizza eating. More on him and his Chicago Pizza Tours in a future post. Also nine more pizzerias to come in Part 2 of this Chicago rundown.