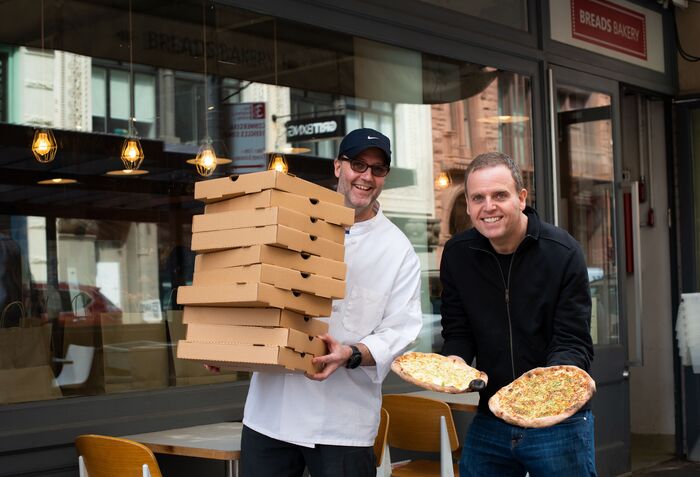 Here's some cool news! Breads Bakery is an incredible spot in Union Square known for its bread, pastry, and most importantly the chocolate babka. All that changes next week they they jump into the pizza game. Breads isn't just going it alone, they've partnered with Chef Wylie Dufresne (WD-50, Du's Donuts) for a pizza residency called Stretch Pizza that kicks off on April 20.
Dufresne is a Michelin-starred chef with a James Beard award and loads of clout. Great chefs who jump into pizza often miss the mark but the photos I've seen of Dufresne's pies look great. He guy grew up in NYC and has apparently spent loads of time during COVID tinkering around with pizza at home. As of next week, he'll be offering 12″ pizzas Tuesday-Thursday evenings by advance reservation.
While I don't think we'll be able to fit this into our New York Pizza Tours, I do hope to loop Stretch Pizza into an informal pizza crawl of some of the new pizza spots in the area. There's Washington Squares just a few blocks away, then Zazzy's further west, and I'd love to check out the new Village Square location just around the corner.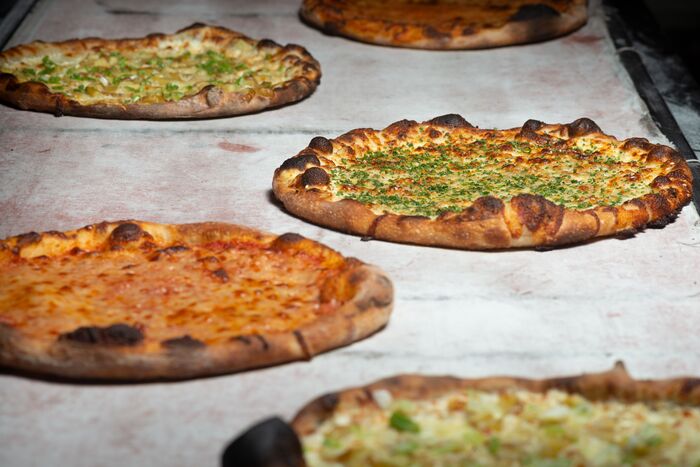 Menu
The current menu (subject to change) lists only 4 pizzas ($19 each) plus an egg calzone ($7.50). I love limited menus so I'm totally down for this.

Classic New York: house-made pizza sauce, aged mozzarella, parmesan
Couch Potato: fingerling potatoes, sour cream, rosemary, scallions, aged mozzarella, parmesan
Everything: cream cheese, aged mozzarella, everything bagel spice, chives
Sketches of Spain: romesco sauce, grilled ramps, aged mozzarella, parmesan
Calzone: scrambled eggs, muenster cheese, american cheese, scallions
Stretch Pizza @ Bread's Bakery
18 E 16th St
New York, NY 10003
Tues-Thurs 5-8pm
Advance reservations required for pickup
Order Here