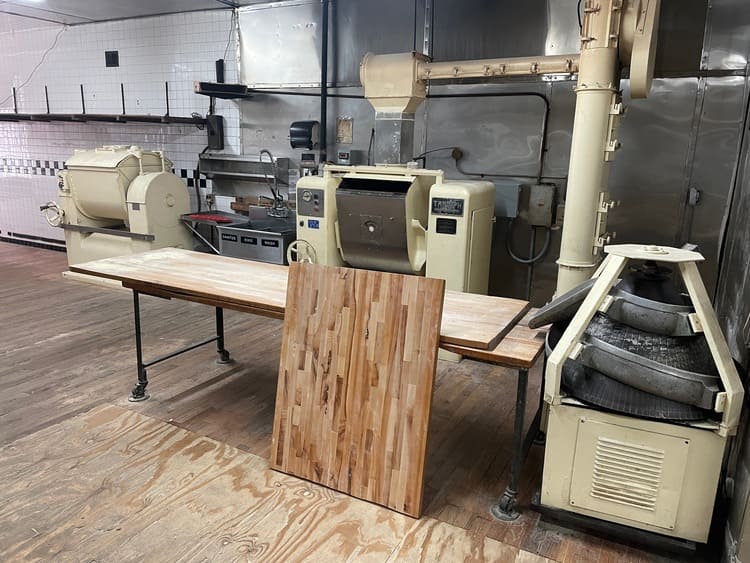 History
Today, anything north of Houston Street is not considered part of Little Italy. If you stood in front of 290 Elizabeth Street in 1940 you would have been right in the thick of a Sicilian enclave. According to a 2003 historic preservation report, John and Angelina Bivona opened a bakery in that space in 1933. We see from a 1935 alteration record that they added a 1-story extension at the rear of the building to house a new coal oven. Take a look at the 1940 tax photo below. You'll see a pretty typical "French and Italian Bakery" with fresh bread in the window. You can even make out the word "pizzeria" on both the left window and the right side of the awning. This is pizza lover catnip. Knowing that this place was a pizzeria that had a coal oven makes it an important landmark.
The Bivonas ran the shop past John's passing in the 1960s but didn't last past Angie's death in the 1970s. Mott Street's Parisi Bakery took over the space shortly thereafter and continued to run it as a bakery. I used to take groups there on NYC pizza tours for trays of their bakery pizza. We'd get to see the gigantic coal fired bread ovens in the back. Groups loved it and I always appreciated the access we were given to such a rare and iconic site.
290 Elizabeth Today
The place seemed to be a relatively busy wholesale bakery, but recently rumors swirled about a change in the air. Restaurateurs had their eyes on the place. Push finally came to shove and there's both a new building owner and a new tenant in the bakery space. This week I had a chance to check out the old ovens and bakery gear one last time!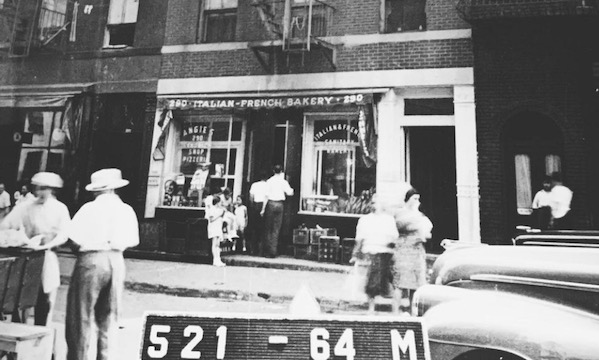 The good news is the coal ovens are essentially part of the building so they're staying put, but the other gear is on its way out the door. This is classic gear and it will be extremely sad to see it disappear. If you're interested in purchasing any of it, please contact me and I'll connect you with someone who can help.
Gear
The centerpiece of the room is a gigantic revolving tray oven. The Parisi family probably added it under their tenure, but I'm not 100% positive. This is a Universal Oven Company unit, which is the company that built modular coal ovens used at John's, Arturo's, and Totonno's (pizzerias). It has seven shelves that constantly revolve like a ferris wheel. This allows a huge capacity in a relatively small space. It must have been vital to the operation because it essentially renders one of the huge coal ovens unusable.
Next up are the three dough mixers. Two are old tub mixers — a Triumph from the 1960s and a Champion from 1951. The Triumph is connected to a system that automatically brings flour up from the lower floor, where it sits in a trough. SO COOL! The Champion is similar to the one they use at Patsy's in East Harlem, but this one's at least 10 years younger. The third is a Hobart H-600, a typical 60 quart mixer probably used for smaller batches.
Next up is a dough divider, which the new tenants plan to keep. This machine stamps out dough pieces destined for another ancient machine, an old dough roller. This unit is identical to one I saw at the old Grand Bakery I explored in Hoboken years ago. Very cool.
Coal Ovens
Finally we have to talk about the massive dual coal oven in the back of the space. John and Angelina Bivona added this beast in 1935. The oven hardware reads "Herman Wild & Son — Woodhaven, NY." This oven is similar to others I've seen from companies like Peterson, Middleby, and Dutchess Tool Company. The two ovens are set up in mirror image. The two square doors in the center are the coal boxes, then the baking chamber access door then a light portal. There's a steam system (at least one on the right side) and coal storage chambers under the baking chamber access door. Under the fire box is a fan for extra power and an ash clean-out.
Lots of pizza tour guests ask about coal ovens because rumor has it they're illegal. The common story is that only the old ovens are allowed because they were build before the new building codes, but that's just false. We've seen plenty of new coal fired ovens in recent years. For example, there's Fiasco on Arthur Ave, Massa's (now closed) in Long Island City, Grimaldi's on Coney Island, and Table 87 in Brooklyn. It's rare to find one of the old ovens because so many have been demolished to make space for more apartments. Ovens are much more compact and efficient these days, making coal ovens obsolete.
Stay tuned for more info about what's to come of this space on 290 Elizabeth Street. It's not likely to resume its pizzeria status from 1940, but I'm sure there will be some bread items on the menu that will carry with them the tradition started by John and Angelina Bivona back in the 1930s. Maybe the new tenants will make sfincione to honor the Bivonas' Palermo roots!
If you're interested in other coal fired ovens I've documented, check out this article from Serious Eats!