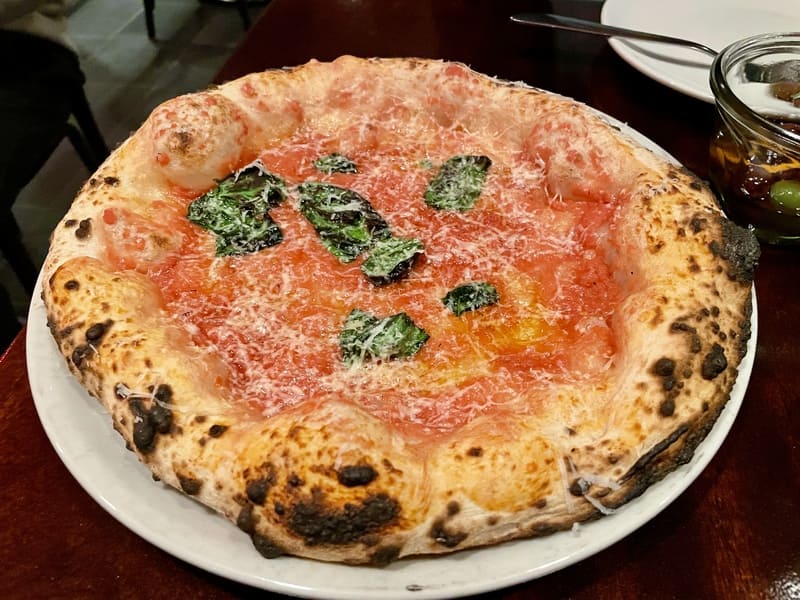 Italy's "50 Top Pizza" organization has just published their list of the top 50 pizzerias in the U.S. They've been ranking pizzerias all over the planet for years, but this is only the second time they've zoomed in on the U.S. Last year's announcement came via an online event due to COVID protocol, but this year's announcement was live and in person in NYC's Chelsea neighborhood. The big winner was Una Pizza Napoletana, an absolutely epic pizzeria that has moved from East Coast to West Coast and back over the past 2+ decades. It recently resettled in NYC's Lower East Side after a pandemic suspension.
New York City faired well on the list, with 9 pizzerias in the list, followed by San Francisco and Portland (Oregon). I've only been to half of the spots on the list so it looks like I have some homework to do!
The List
I'm Bored of Lists
While I love anything that stirs up conversation about pizza, I have to admit I'm completely bored of lists. The more lists I see, the less I care about them. It seems like every week we get a new one. Most lists are just regurgitations of old ones, compiled by interns who spend 10 minutes searching "best pizza" before hitting the publish button. I don't see any value in most lists because they offer nothing new. I saw a list a few weeks ago from a reputable website that offered inaccurate information that would have been avoided had a journalist actually visited the pizzerias.
My favorite list used to be the Daily Meal's 101 Best Pizzeria in America. Until recently, Arthur Bovino produced the list by tapping dozens of experts to compiled this beast of a list. The methodology of this list changed up a year or two ago and now it's just like all the others. There's a similar list in Daniel Young's massive Where To Eat Pizza, in which he pulled together experts in cities across the planet (I helped with the NYC section) to poll their own local contacts in advance of compiling a brick of a book with listings and information about each spot.
My Thoughts on the Top 50 List
To understand a list, you need to know who wrote it. This list comes to us from an Italian organization. They truly are experts and devotees of pizza as a craft. They have the deepest love for the food and I have a great deal of respect for that. Knowing this explains why the list is heavily weighted toward Neapolitan and other styles with Italian influence. I'm taken aback at how a list of U.S. pizzerias is missing so many American styles. I don't see some of my New York favorites like L'industrie, Scarr's, Patsy's, and King Umberto. I don't see any of the non-Neapolitan styles from Chicago. Nothing from Detroit. Nothing from New Haven. It's strange to have a U.S. list missing so many U.S. styles.
Knowing who wrote a list is a prerequisite for understanding what a list means. This is a great list when you understand who wrote it. It's an incomplete list if you take the headline as fact.
Selecting the 50 top pizzerias in the U.S. is a huge task that I wouldn't dare undertake. I don't know the full story behind how it's assembled and I'm hoping to figure that out so I can continue to understand and talk about this list when it inevitably comes up on tours.