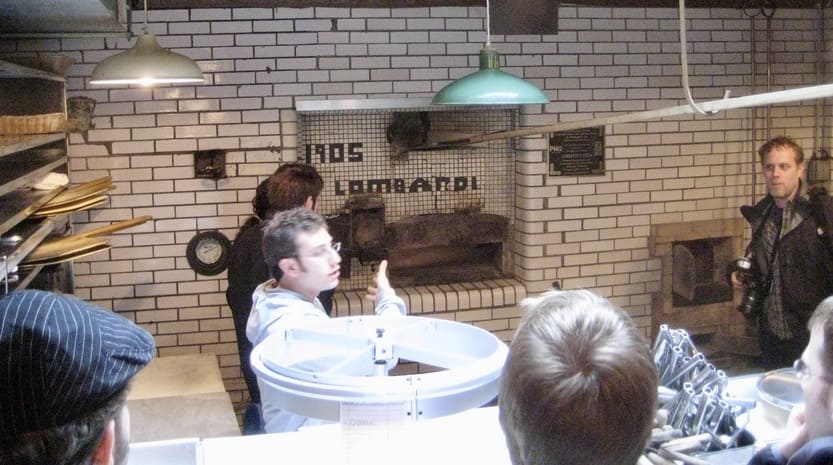 Today marks the 15th anniversary of our very first pizza tour. The date was April 27, 2008 and I had never run a tour in my life. I didn't have any family or friends in the tour business. Nothing in my past pointed to running a tour company or being a tour guide. I actually applied to be a campus tour guide at my university but got DENIED! There's a test you have to take to become a licensed guide in NYC and I failed it on my first attempt. If I was paying even the slightest bit of attention I would have gone for any other occupation on the planet besides this. But my love for pizza blinded me.
I Had No Idea What I Was Doing
At the time I decided to start a tour company, I had never been on a food tour in my life. In the months between filing my first business certificate (Jan 2, 2008) and that first tour in April I bought tickets for a few to get an idea of how people physically run guided tours. Tony Muia of A Slice of Brooklyn graciously invited me on one of his famous Brooklyn bus tours and I signed up for tours with both Foods of New York and Big Onion, which continue to be some of my favorite in NYC. I foolishly decided not to run any practice tours for friends and family, decided to jump directly into the deep end of the pool. Could I talk about pizza for 4.5 hours? I honestly had no idea what was going to happen as I stepped through the door of Lombardi's to greet my tour group.
I rented a big yellow school bus every Sunday and took each tour to a different set of pizzerias. It was a fantasy for a pizza lover like me. I figured if I ran tours that I would enjoy, surely other people would sign up. That's not exactly what happened. Even though I had amazing coverage from the NY Daily News and some of the local TV networks, it took some time to consistently get enough people to break even. Buses aren't cheap and of course I chose a tour model with hefty overhead. Remember, I was approaching this as a pizza lover and not as a business owner. In a lot of ways that's still the case today.
The Best Team Ever Assembled
I never planned the company would grow beyond just me, which is why I named it Scott's Pizza Tours. I wanted it to be clear that the tour was strictly my personal perspective on pizza. My thought was that that if I named the company Big Apple Pizza Tours, it would be like claiming some kind of unfounded expertise. Either that or it would sound hokey. But after about 18 months, the tours started to fill up and I realized I needed help. That's when the company transformed from one person into a team.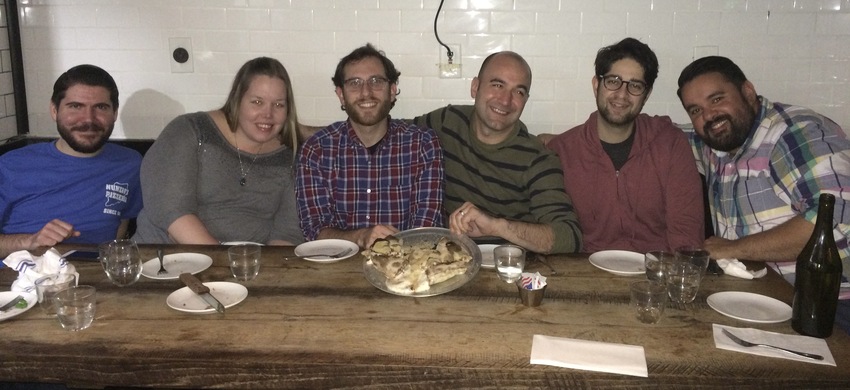 JoAnne was the first tour guide. I don't know if she had every guided a tour before, but she was really interested in food and information and not afraid to get nerdy. She ran tours with me right up until late 2012, which is when I got serious about finding and training fellow pizza nerds. There have been almost twenty of us over the years, some of whom have gone on to huge things in pizza and beyond. Joe now runs a food tour company, creative arts center, and cheese shop in Nyack, New York. Miriam has become an outstanding pizza maker and has plans to open her own shop. You may have recently seen her on Chopped! Mike continues to be a successful comedian. Alexis is a comic and hosts a huge soccer show. David Fried is a comedy writer with plans to move to Spain. The list goes on with Jared, Joan, Emily, Madison, Dan, Paul, Amy, Krista, Peter, David, Cedric, and Chef Mincey (you've seen her on Master Chef and Best in Dough).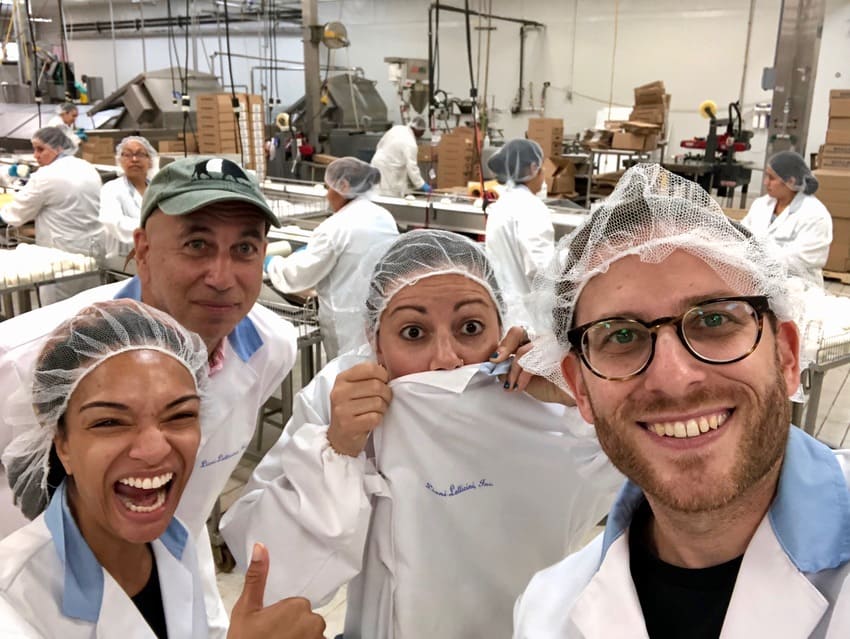 For anyone who has ever taken a bus tour with us, you know how essential our drivers are to the experience. Our first every driver Ronnie is still a buddy of mine. We take each other out for BBQ on our respective birthdays. Then there's Rob, Sebastian, Gary (aka G-Slice), Robert, Ciro (he hates pineapple on pizza), Tito, Freddy, Michee, and Patrick. And who could forget Mr. Hawk, who drove a crew into NYC for one hop-on tour we did back in 2018. He asked the bus pizza trivia between stops and I rewarded him with his first ever fried calzone. I find videos and photos of things like this all the time and it always blows me away how many cool people we've come across on tours.
Our team is incredibly important and the hub of the wheel is without a doubt our director of operations C.C. Webster. I had been friends with C.C. for years already when she served me a serious reality check. "You're a mess. You need help. No, it's not just the pizza addiction, it's the fact that you're running tours all day and answering emails all night. I am going to help you. I will make you human again." That's not an exact quote, but I'm sure it's close. If you have ever booked a private tour or emailed us through the website, C.C. is the person who made it happen. She's the most important part of our team and 100% the reason we've been around as long as we have. She's kept us organized and under control.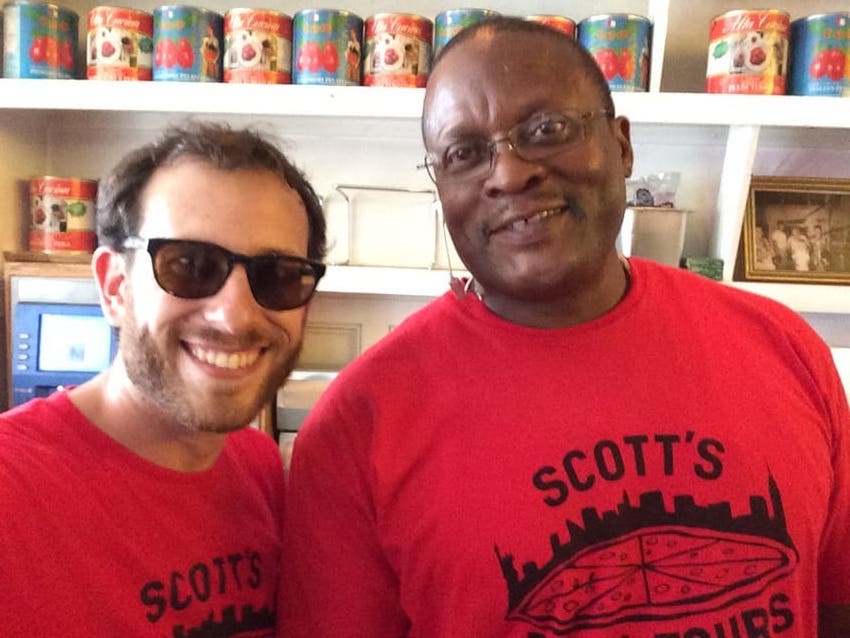 The Pizza Buddies We Met Along the Way
This sounds crazy, but we've had well over 100,000 guests on our tours and classes. A surprising number have been on MULTIPLE tours! We even started an alumni club just a couple months ago to give special rewards and opportunities to anyone who has been on 5 or more tours. Lizzy has been on at least 10 and brings every company she's worked for on a private tour. Elizabeth did the tour when she got engaged, for her bachelorette, and for so many work outings. James comes to NYC for two weeks every year and takes consecutive bus tours every time. He even brings me pizza boxes from his travels! Lora, Andy, and Claire must have taken almost 20 by now. Then there's Mark and Sue, who really became family before they took their 5th tour but have somehow managed to attend a grand total of 36 tours since we met in 2009. Totally insane. And who could forget our Theme Park Review family!? Such awesome people. And Barry, who gave me a pizza box his kids made him with a picture of him in front of his pizza oven! A TREASURE! There are too many characters to mention, my apologies to those of you who did not receive a special shout-out here. We love you!
I could go on forever listing the people who have lent their joy to our tours but I can't end this post without shouting out to the pizzeria owners, staff, and pizza industry friends who have made us more educated and better able to explain the intricacies of what happens in pizzerias. You know who you are because I talk to you just about every week.
Here's to the Pizza Road Ahead!
Above all, thanks to my incredible friends and family for the constant support over the year. You've probably met my mom on a tour, she usually shows up in her own customized SPT shirt. I remember everyone being skeptical when I ditched my career in TV and music to pursue something completely insane, but I'm really glad nobody had the good sense to stop me. My mom used to call me every Sunday to ask how the tour went. We would assess the things that went wrong and think through how to prevent them in the future. That's some incredible support and it's entirely responsible for the tour still being in operation 15 years later. We're proud to be so embedded in the NYC pizza community and proud to do what we do to spread the love of all things pizza. Thanks so everyone and we look forward to seeing you on a tour or at a pizzeria sometime soon.