more than 1,500 *clean* pizza boxes from 100+ countries
A 2008 trip to Israel changed everything. SPT's founder, Scott Wiener, first appreciated pizza box art while walking past a tiny take-out shop that communicated their pizza sized by displaying their boxes on the wall. Having grown up with only smudgy red ink printed on a thin, white cardboard base, he was shocked to notice this odd blue writing on a yellow background — making it clear that language and currency weren't the only defining characteristics of a culture.
Thus began a quest to collect and archive as many interesting pizza boxes as possible. Friends and family quickly caught on and adopted the pizza box quest as their own. Boxes poured in from all over the world, resulting in a collection deemed the world's largest by Guinness World Records in 2013.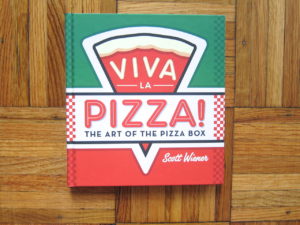 Since an honor like this cannot be taken lightly, Wiener committed to sharing the collection. Viva La Pizza! The Art of the Pizza Box, Wiener's book of over 100 amazing pizza boxes from around the world, was published by Melville House in 2013. He even partnered with designer Steph Mantis to create a tour of the collection's best pieces in galleries across Europe in 2014. Now the collection is archived, cataloged, insured, and ready to be shared. Please contact us if you're interested in sponsoring a box exhibition with this unique collection of unexpected art.
Sign up for hot slices of pizza news and special offers! Don't worry, we won't clog your inbox or your arteries.